caramel apple spice thumbprints
apple pie spice coated soft cookies with salted caramel center
baked in September 2017
yield: 28 cookies
prep time: 30 minutes
cook time: 15 minutes
difficulty level: medium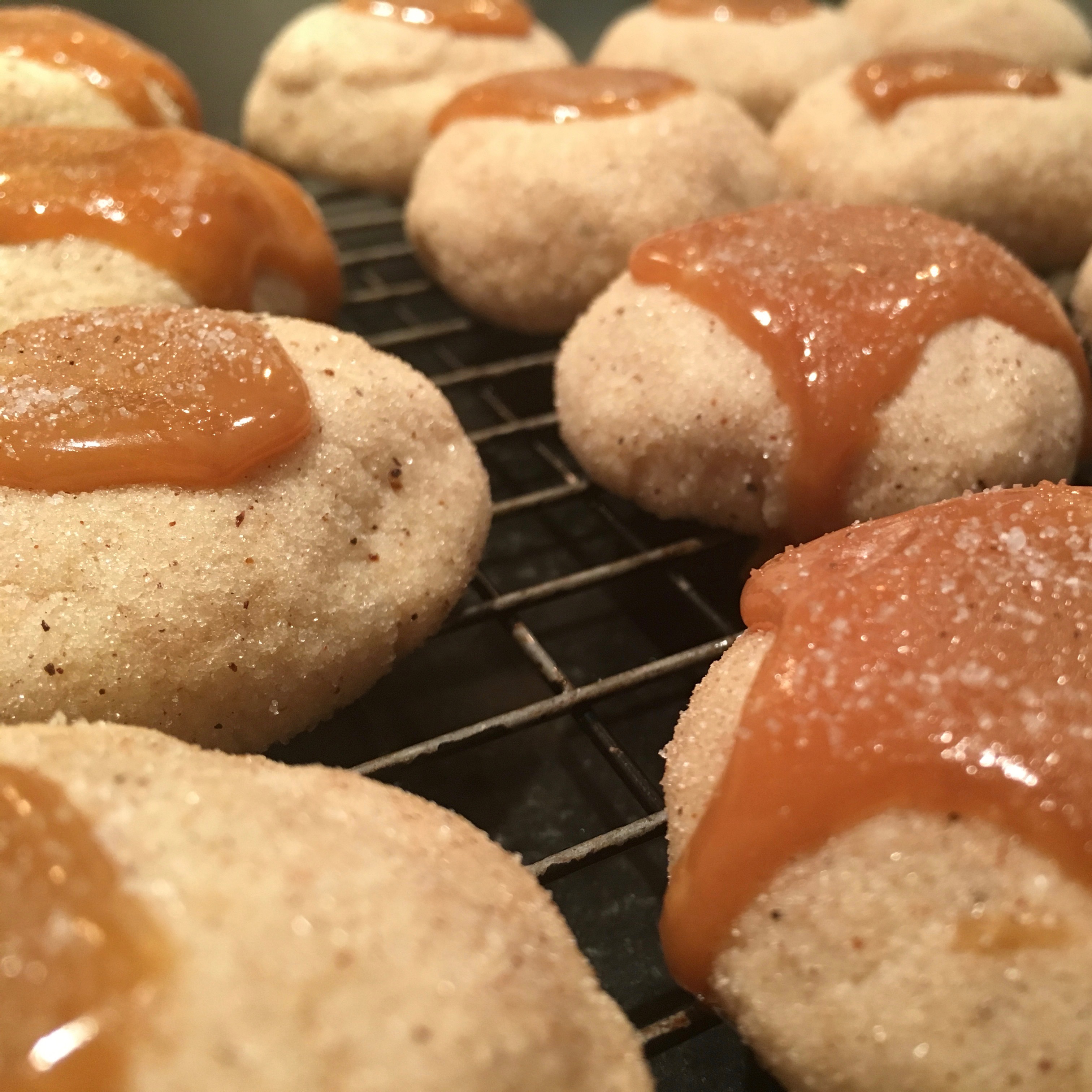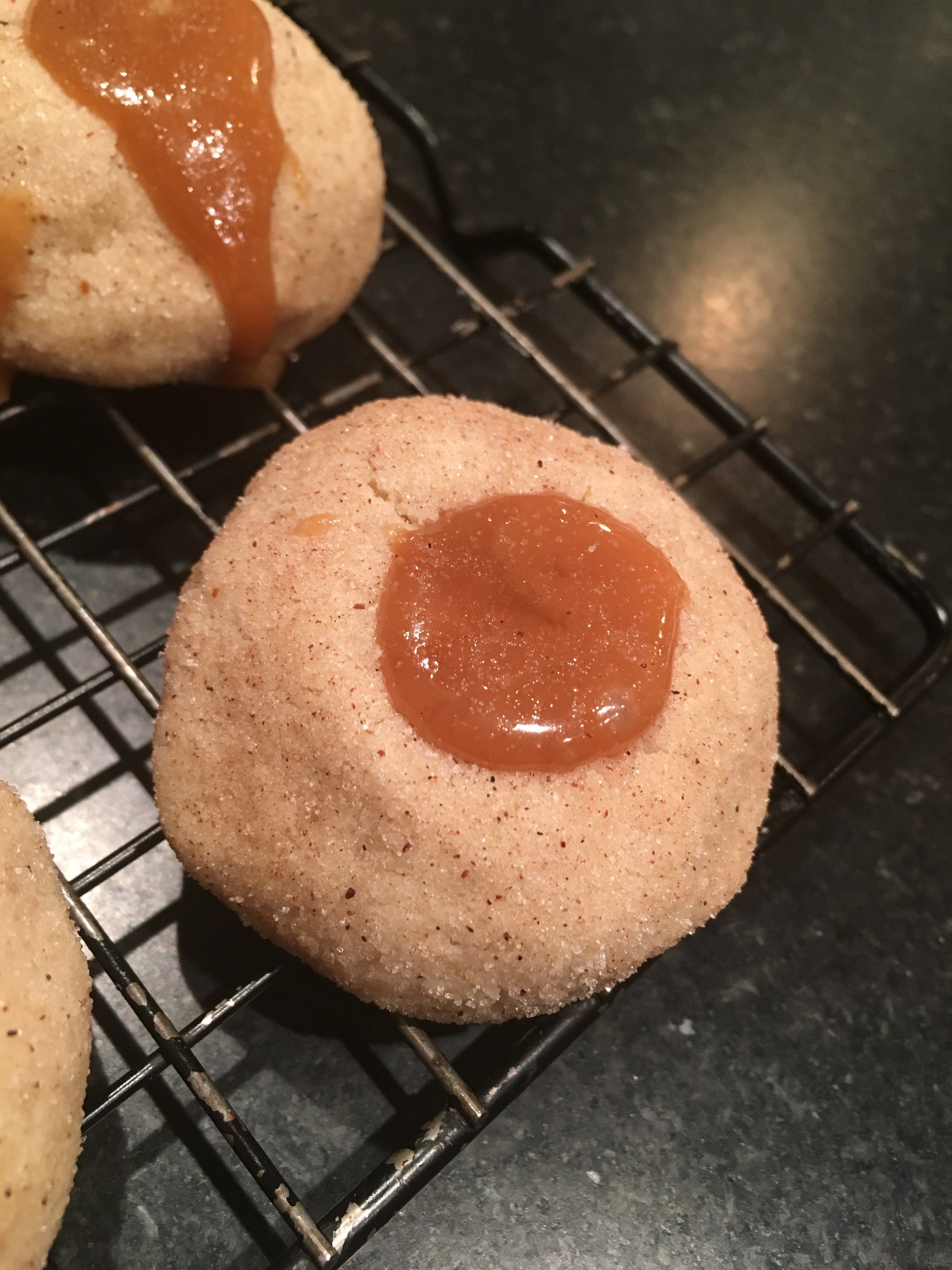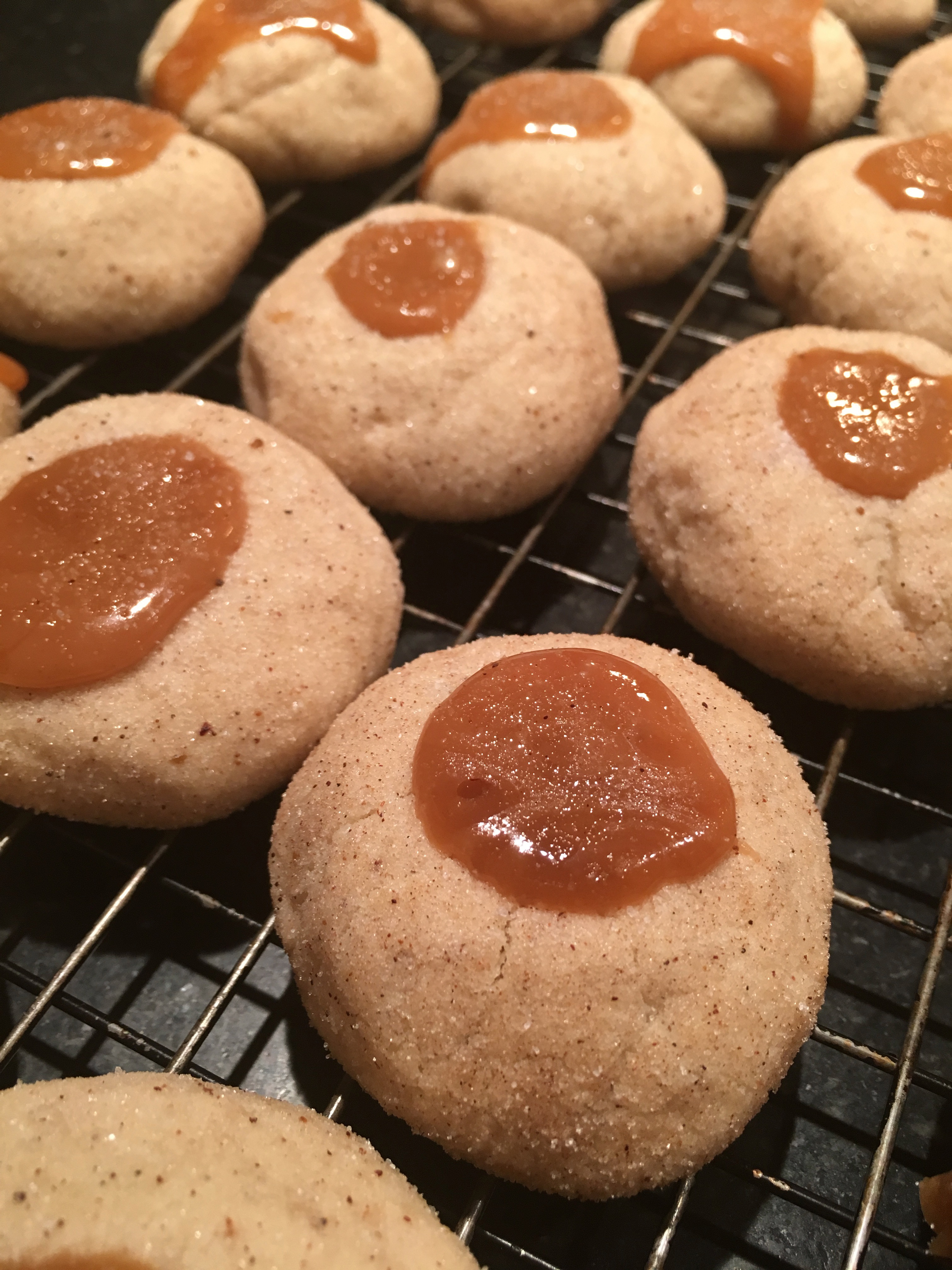 Ingredients
Caramel
1 cup granulated sugar
6 Tablespoons (3/4 stick) salted butter, at room temperature and cut up into 6 pieces
1/2 cup heavy cream
1 teaspoon salt
Topping
1/3 cup granulated sugar
1/2 teaspoon apple pie spice
Cookies
2 and 1/2 cups all-purpose flour
1 and 1/2 teaspoons apple pie spice
1 teaspoon baking powder
1/4 teaspoon salt
1 cup (2 sticks) unsalted butter, at room temperature
3/4 cup granulated sugar
1 large egg, at room temperature
1 and 1/2 teaspoons pure vanilla extract
Directions
For the caramel:
Heat granulated sugar in a medium saucepan over medium heat, stirring constantly with a wooden spoon.
Sugar will form clumps and eventually melt into a thick brown, amber-colored liquid as you continue to stir. Be careful not to burn.
Once sugar is completely melted, immediately add the butter. Be careful in this step because the caramel will bubble rapidly when the butter is added.
Stir the butter into the caramel until it is completely melted, about 2-3 minutes. A whisk helps if you find the butter is separating from the sugar.
Very slowly, drizzle in 1/2 cup of heavy cream while stirring. Since the heavy cream is colder than the caramel, the mixture will rapidly bubble and/or splatter when added.
Allow the mixture to boil for 1 minute. It will rise in the pan as it boils.
Remove from heat and stir in 1 teaspoon of salt. Allow to cool down before using.
For the cookies:
Mix the topping ingredients together in a small bowl. Set aside.
Whisk the flour, apple pie spice, baking powder, and salt together in medium bowl. Set aside.
In a large bowl using a handheld or stand mixer fitted with a paddle attachment, beat the butter and sugar together on medium-high speed until smooth and creamy, about 2 minutes.
Add the egg and vanilla extract, and beat on high speed until combined, about 1 minute. Scrape down the sides and up the bottom of the bowl and beat again as needed to combine.
Add the dry ingredients to the wet ingredients and mix on low until combined.
Roll balls of dough, a little less than 1 Tablespoon each (about 1 inch balls), and then roll generously into apple pie spice/sugar mixture to coat. Place dough balls onto a large lined baking sheet.
Using your thumb or the end of a spatula, make an indent into each cookie. If you find that the balls are cracking when you make an indent, use your hands to push back together.
Chill the shaped cookies for at least 2-3 hours and up to 4 days. Cover them if chilling for longer than 3 hours.



Preheat oven to 350°F. Line a baking sheet with parchment paper or a silicone baking mat. Remove chilled and shaped cookies from the refrigerator. Divide between both baking sheets, spacing the cookies about 2-3 inches apart.
Bake for 12 minutes, remove from the oven, and spoon 1/2 teaspoon of caramel into each indentation. If the indents have lost their shape or have puffed up, use the end of a spatula to make an indent again. Place cookies back in the oven for 1-2 more minutes.
Allow cookies to cool on the baking sheets for 5 minutes, then transfer to a wire rack to cool completely. Caramel will set after a couple hours.
Nutrition
Total calories: 5444
Calories per cookie: 194