chocolate reese's-stuffed cookies
rich dark chocolate cookies stuffed with a mini reese's cup
recipe from Sally's Cookie Addiction cookbook
baked in October 2017
yield: 16 cookies
prep time: 30 minutes
cook time: 12 minutes
difficulty level: medium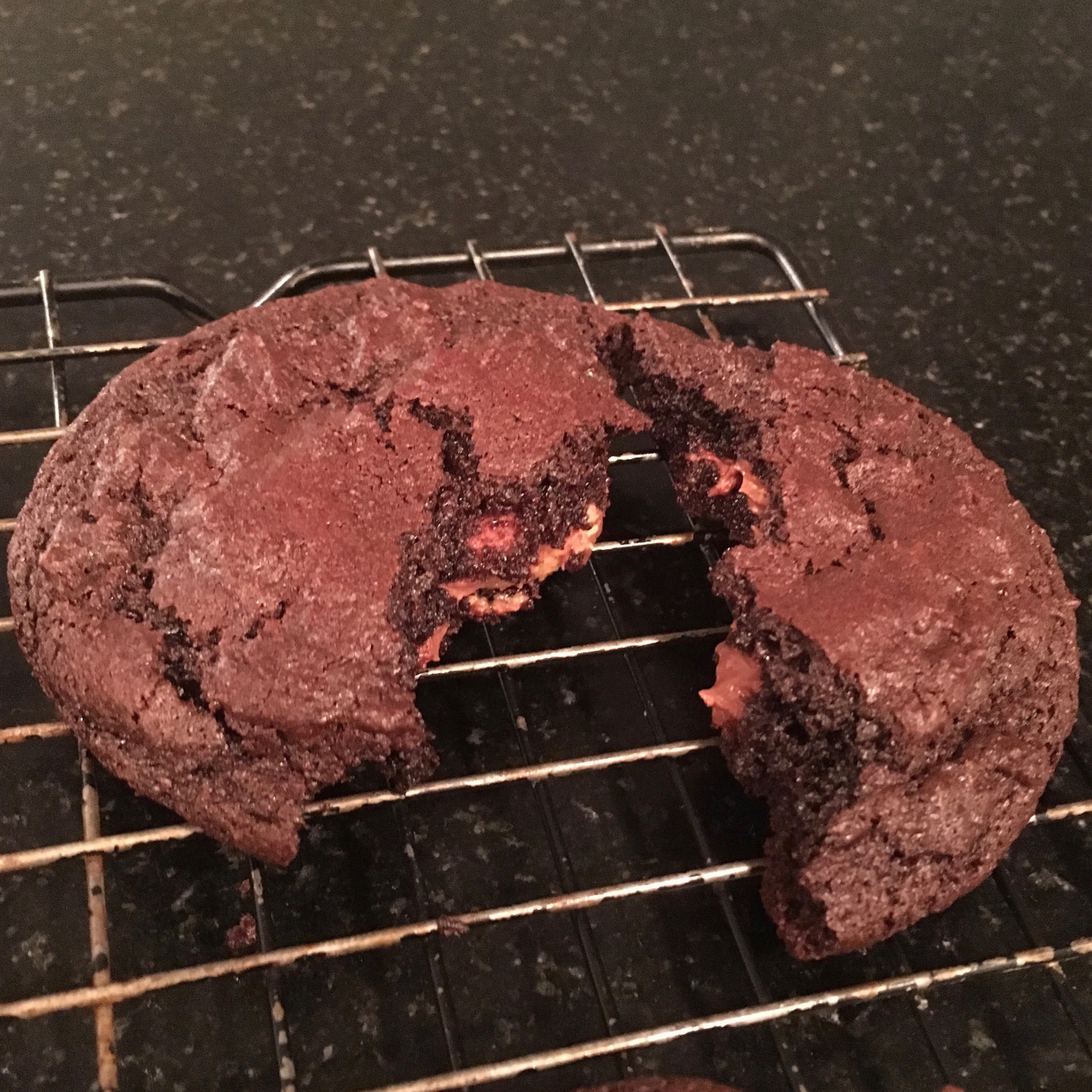 Ingredients
1 cup all-purpose flour
2/3 cup unsweetened natural cocoa powder
1 teaspoon baking soda
1/8 teaspoon salt
1/2 cup (1 stick) unsalted butter, at room temperature
1/2 cup packed brown sugar
1/2 cup granulated sugar
1 large egg, at room temperature
1 teaspoon pure vanilla extract
2 Tablespoons milk
16 mini Reese's Peanut Butter Cups, unwrapped
Directions
Whisk the flour, cocoa powder, baking soda, and salt together in a medium bowl. Set aside.
In a large bowl, using a handheld mixer or a stand mixer fitted with a paddle attachment, beat the butter on medium-high speed until smooth, about 1 minute.
Add the brown sugar and granulated sugar, and beat on medium-high speed until creamed, about 2 minutes.
Add the egg and vanilla extract, and beat on high speed until combined, about 1 minute. Scrape down the sides and up the bottom of the bowl and beat again as needed to combine.
Add the dry ingredients to the wet ingredients and mix on low speed until combined.
Finally, beat in the milk. The dough will be soft and sticky.
Cover and chill the dough in the refrigerator for at least 2 hours (and up to 4 days). If chilling for longer than 3 hours, allow it to sit at room temperature for at least 30 minutes before rolling and baking because dough will be quite hard.



Preheat oven to 350°F. Line baking sheets with parchment paper or silicone baking mats. Set aside.
Roll balls of dough, using about 1 Tablespoon of dough for each cookie.
Make a thumbprint in one of the dough balls, press a miniature peanut butter cup into the center, and top with another dough ball.
Mold the dough around the edges of the peanut butter cup and roll it between your hands to ensure the candy is completely hidden inside. Repeat with the remaining dough.
Place the dough balls 3 inches apart on the cookie sheets.
Bake for 12 to 13 minutes, or until the cookies begin to crack slightly at the top.
Remove from the oven and allow the cookies to cool on the baking sheets for 5 minutes before transferring to a wire rack to cool completely.
Nutrition
Total calories: 2,958
Calories per cookie: 185