lemon cookies
soft lemon cookies with tart lemon glaze
recipe from Sally's Cookie Addiction cookbook
baked in July 2017
yield: 32 cookies
prep time: 25 minutes
cook time: 10 minutes
difficulty level: easy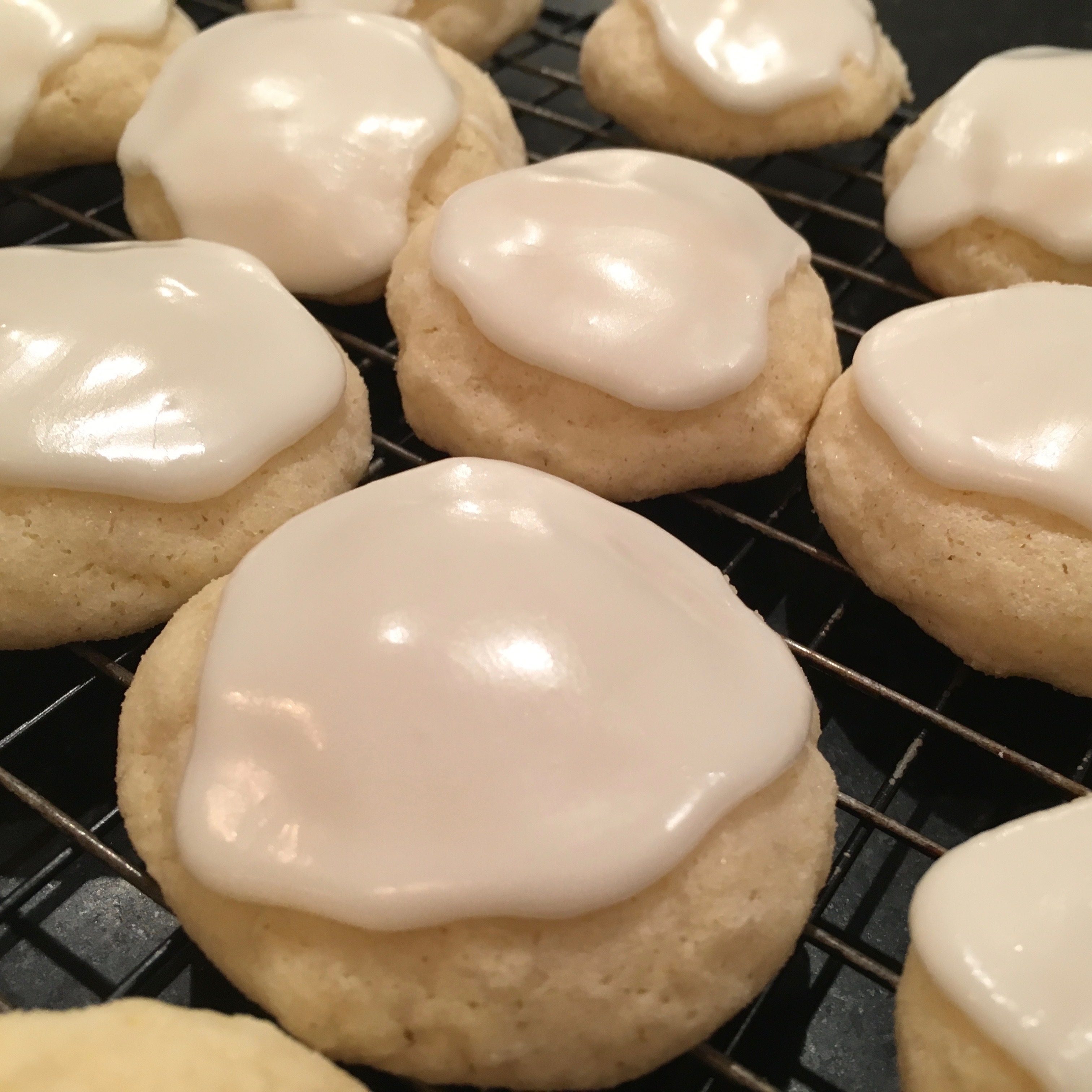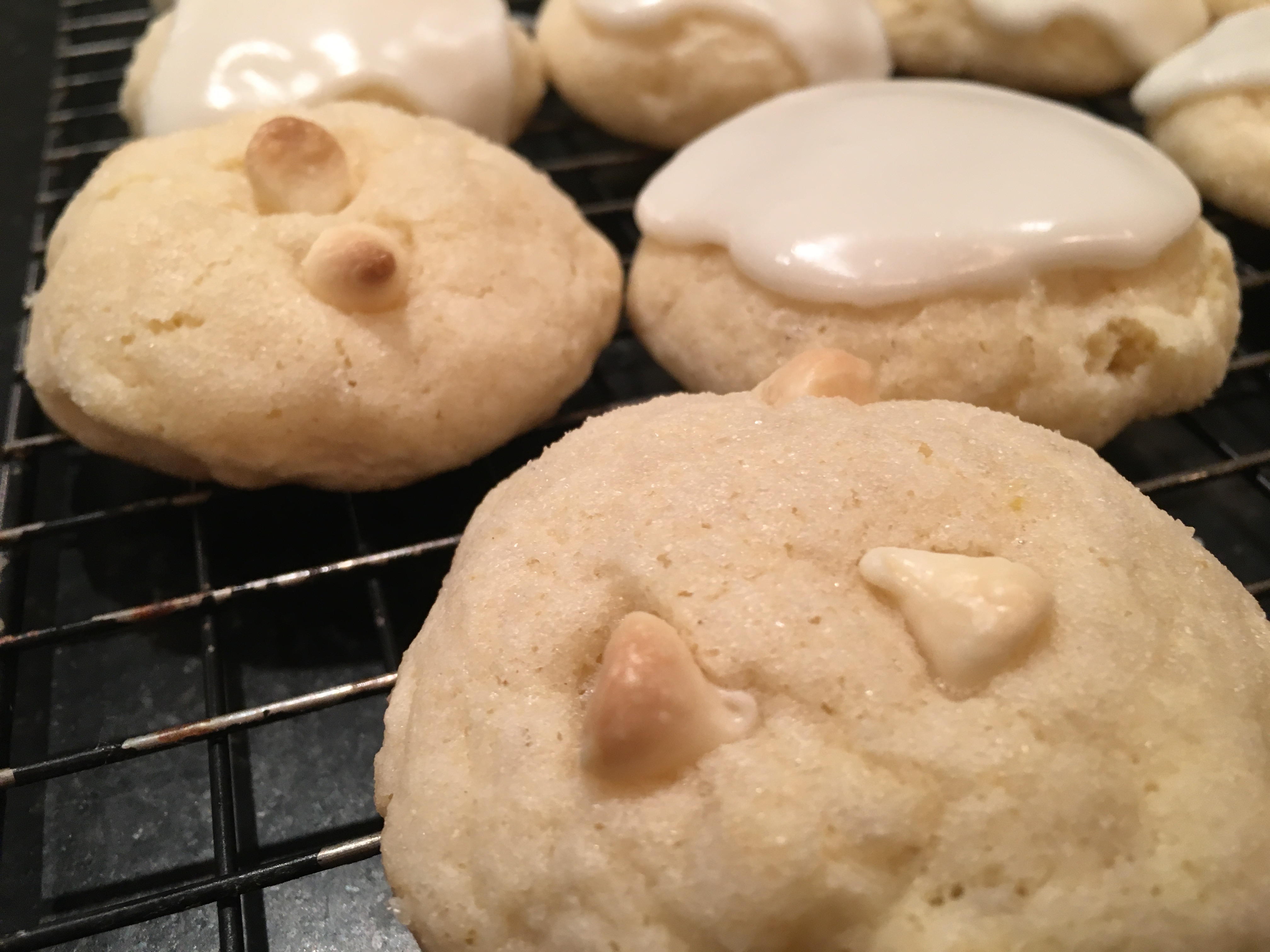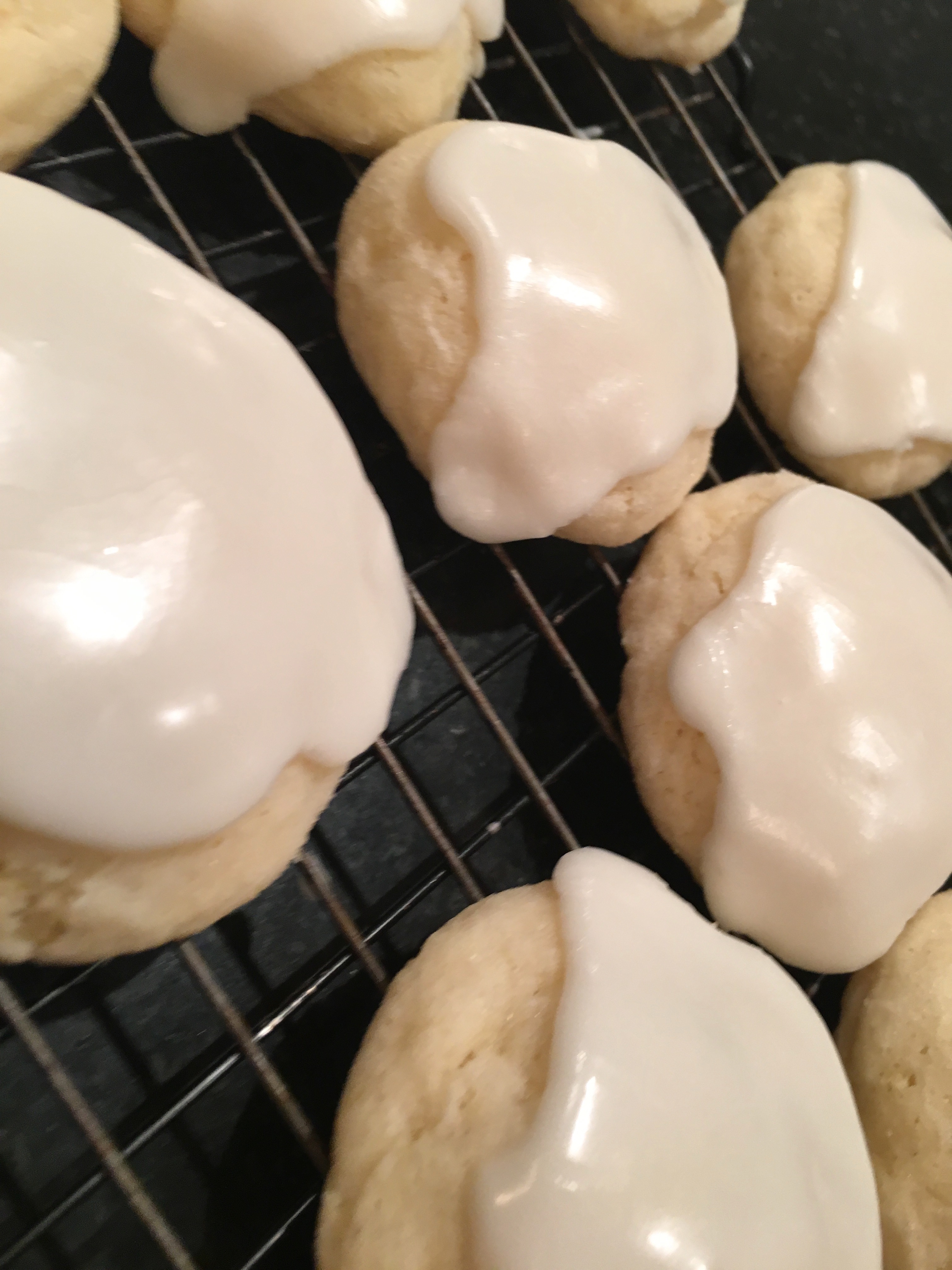 Ingredients
Cookies
2 and 1/2 cups all-purpose flour
1 teaspoon baking soda
1 teaspoon cornstarch
1/4 teaspoon salt
1/2 cup (1 stick) unsalted butter, at room temperature
4 ounces block cream cheese, at room temperature
1 and 1/2 cups granulated sugar, divided
1 large egg, at room temperature
3 Tablespoons fresh lemon juice
2 teaspoons lemon zest
1 teaspoon pure vanilla extract
1/2 cup white chocolate chips
Glaze
1 cup powdered sugar
2 or 3 Tablespoons fresh lemon juice
Directions
For the cookies:
Preheat oven to 350°F. Line baking sheets with parchment paper or silicone baking mats. Set aside.
Whisk the flour, baking soda, cornstarch, and salt together in a medium bowl until combined. Set aside.
In a large bowl, using a hand mixer or a stand mixer fitted with a paddle attachment, beat the butter and cream cheese together on medium-high speed until smooth, about 2 minutes.
Add 1 cup of the granulated sugar and beat on medium-high speed until creamed, about 1 minute. Add the egg, lemon juice, lemon zest, and vanilla extract, and beat on high speed until combined, about 1 minute. Scrape down the sides and up the bottom of the bowl and beat again as needed to combine.
Add the dry ingredients to the wet ingredients and mix on low until combined. The cookie dough will be thick.
Pour remaining 1/2 cup granulated sugar into a bowl.
Separate cookie dough into two halves and place in different bowls. Mix in white chocolate chips to the dough in one of the bowls.
Roll balls of dough, 1 Tablespoon of dough per cookie, then roll each ball into the sugar to coat. Place 2 inches apart onthe baking sheets.
Using the bottom of a measuring cup or drinking glass, gently press down on each ball to slightly flatten.
Bake the cookies for 10 to 11 minutes, or until very lightly browned on the edges.
Remove from the oven and allow to cool on the baking sheets for 5 minutes before transferring to a wire rack to cool completely.
For the glaze:
Whisk the confectioners' sugar and 2 Tablespoons lemon juice together. If needed, add 1 more Tablespoon lemon juice to thin out.
Drizzle over cooled cookies.
Nutrition
Total calories: 4,631
Calories per cookie: 145