almond cupcakes
almond cupcakes with whipped almond buttercream frosting
baked in July 2017
yield: 12 cupcakes
prep time: 10 minutes
cook time: 20 minutes
difficulty level: medium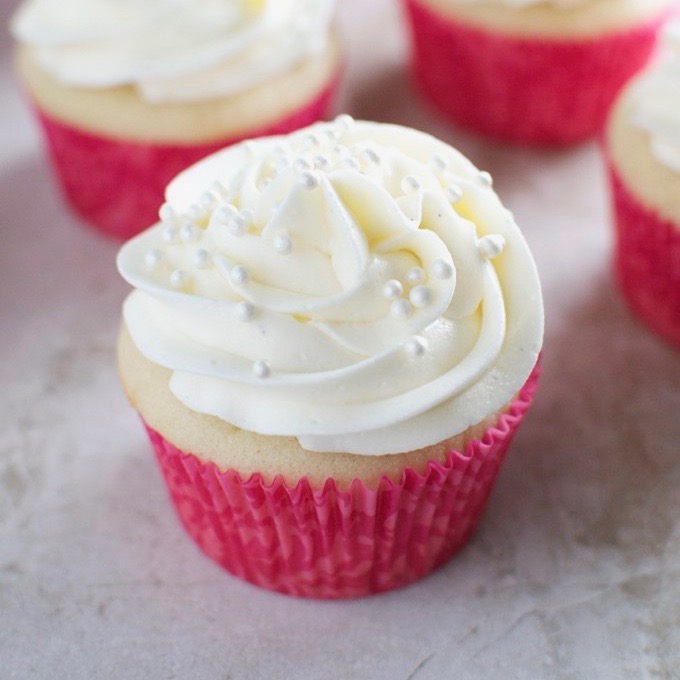 image from Stuck on Sweet
Ingredients
Cupcakes
1 and 1/2 cups all-purpose flour
1/2 teaspoon salt
1 and 1/2 teaspoons baking powder
1/2 cup (1 stick) unsalted butter, at room temperature
1 cup granulated sugar
2 large eggs, at room temperature
1/2 teaspoon pure vanilla extract
1 and 1/2 teaspoons almond extract
1 cup buttermilk or whole milk, at room temperature
Frosting
4 cups powdered sugar
1 and 1/2 cups (3 sticks) unsalted butted, at room temperature
1/4 teaspoon salt
2 teaspoons almond extract
1 teaspoons pure vanilla extract
1/2 cup boiling water
Decorative sprinkles (optional)
Directions
For the cupcakes:
Preheat oven to 350°F and line a cupcake pan with cupcake liners. Set aside.
In a bowl, mix together the flour, baking powder, and salt. Set aside.
In a stand-along mixer fitted with a paddle attachment (hand-held mixers work too), cream together the butter and sugar until light and fluffy, about 3 minutes, scraping down sides of bowl as necessary.
Next add eggs, almond extract, vanilla extract and mix until smooth (mixture may have a few lumps), scraping down sides of bowl as necessary.
Add one third of the flour mixture and mix on medium-low speed until just combined.Then add half of the milk, mix until combined, again add another one third of the flour mixture and mix until combined then add the other half of the milk and mix until combined. Finally add the last of the flour mixture and mix until just combined. Do not over-mix.
Evenly spoon batter into cupcake liners, about 3/4 full each and bake for 15-20 minutes. Check for doneness by inserting a toothpick or knife in the center of a cupcake, and if it comes out clean or with light crumbles on it, they're done!
Pull them out, let them cool for just a minute and then remove from pan to fully cool on baking rack or counter.
For the frosting:
Bring the water to a boil.
While the water is coming to a boil, add the powdered sugar to a stand-alone mixer fitted with a whisk attachment.
Add the boiling water to the sugar and mix for 4 minutes on low speed until the sugar completely dissolves. Use a spatula to scrape the sides and bottom of the bowl to make sure no lumps of sugar remain.
Mix in the almond extract, vanilla extract, and salt. Check the mixture to make sure it's at room temperature. If it's still warm, let it cool slightly before adding the butter.
Add the room temperature butter and turn the mixer on low-speed and mix for 3 minutes. The mixture will look watery and lumpy.
Turn mixture to medium speed and continue to mix until frosting looks like whipped cream. This could 2 minutes or it can take 10 minutes - when it's done it will be fluffy and look similar to whipped cream.
Frost cooled cupcakes and decorate with sprinkles.
Nutrition
Total calories: 6,872
Calories per cupcake: 573