apple pie cupcakes
apple cupcakes with apple pie filling and topped with a brown sugar cinnamon swiss meringue buttercream frosting
baked in November 2015
yield: 24 cupcakes
prep time: 1 hour
cook time: 18 minutes
difficulty level: hard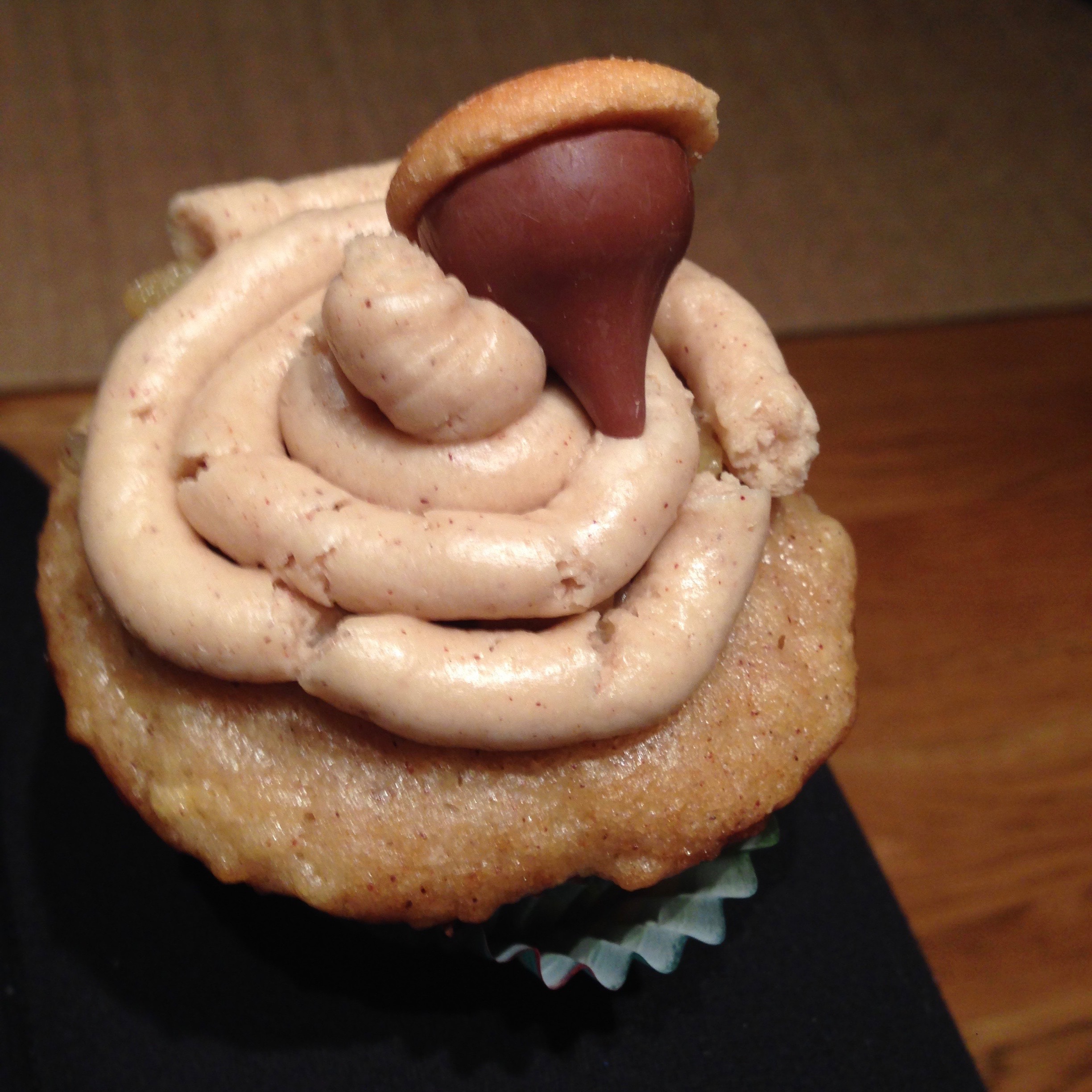 Ingredients
Cupcakes
3 cups all-purpose flour
1 cup granulated sugar
1/2 cup light brown sugar
2 teaspoons baking powder
1/2 teaspoon baking soda
1 teaspoon salt
2 teaspoons cinnamon
3 eggs
1 cup vegetable oil
1/2 cup sour cream
2 teaspoons vanilla extract
2 cups grated apples (2 golden delicious, 2 gala)
Filling
3 apples, finely chopped (2 golden delicious, 1 gala)
1 Tablespoon unsalted butter
2 Tablespoons light brown sugar
1 teaspoon lemon juice
1/4 teaspoon cinnamon
Frosting
1 cup (2 sticks) unsalted butter, at room temperature
3 large egg whites
3/4 cup light brown sugar
1 teaspoon vanilla extract
Cinnamon to taste
Acorn Topping
24 mini Nilla wafers
24 Hershey's kisses
24 mini chocolate chips
Directions
For the cupcakes:
Preheat oven to 350°F and line muffin pans with cupcake liners.
In medium bowl combine dry ingredients: flour, granulated sugar, brown sugar, baking powder, soda, salt and cinnamon.
In large bowl combine eggs, vegetable oil, sour cream and vanilla and whisk together.
Gradually add dry ingredients to wet ingredients and whisk until combined.
Fold grated apples into the cake mixture.
Fill cupcake liners 2/3 full with batter.
Bake for 18-20 minutes or until toothpick inserted in center comes out clean.
Let cupcakes cool in pans for 5 minutes, then remove to wire racks to finish cooling.
For the filling:
Place chopped apples, butter, brown sugar, lemon juice and cinnamon in medium size pan and cook over medium heat for about 8-10 minutes, until apples are tender. Stir occasionally.
Allow mixture to cool.
Use an apple corer to remove the center of the cupcakes and fill with apple pie filling.
For the frosting:
In bowl of stand mixer combine egg whites and brown sugar.
Place over a pan of simmering water and whisk continuously until the sugar is dissolved, about 2 minutes (The mixture should feel smooth when rubbed between your fingers).
Attach bowl to mixer fitted with whisk attachment. Starting on low speed and gradually increasing to medium-high whisk until fixture if fluffy and glossy, about 10 minutes.
Change mixer to paddle attachment and on medium speed add butter a few tablespoons at a time, mixing well after each addition.
Add vanilla and cinnamon to taste and mix well.
Place icing in a piping bag fitted with a large round tip and squeeze a dollop on top of each cupcake.
For the acorn topping:
Use frosting to attach Hersey's kiss and mini chocolate chip to mini Nilla wafer.
Place one acorn on each cupcake.
Nutrition
Total calories: 7,837
Calories per cupcake: 327