caramel cream cupcakes
brown sugar cupcake with a cream filling and topped with a caramel frosting
baked in August 2015
yield: 12-14 cupcakes
prep time: 1 hour
cook time: 20 minutes
difficulty level: hard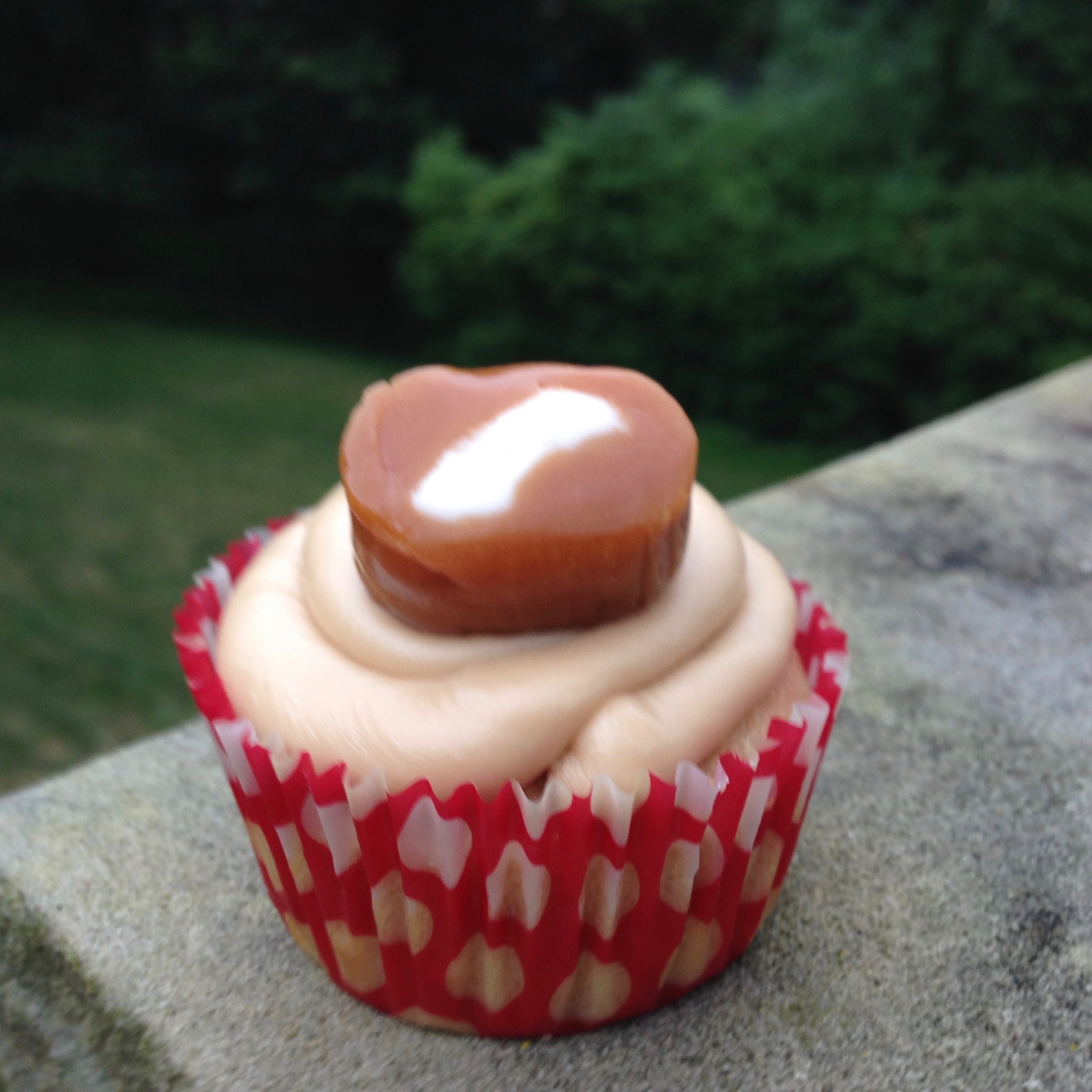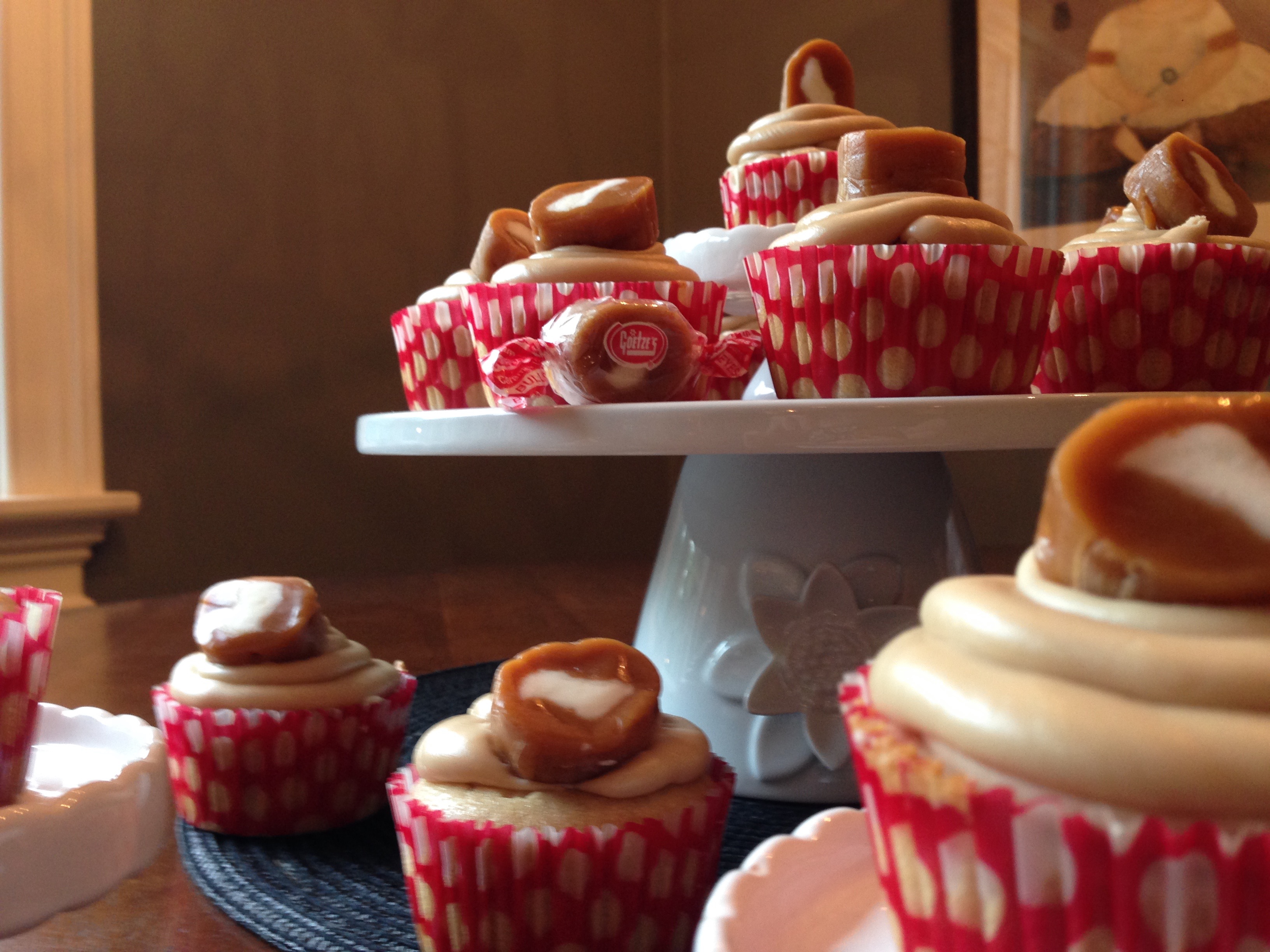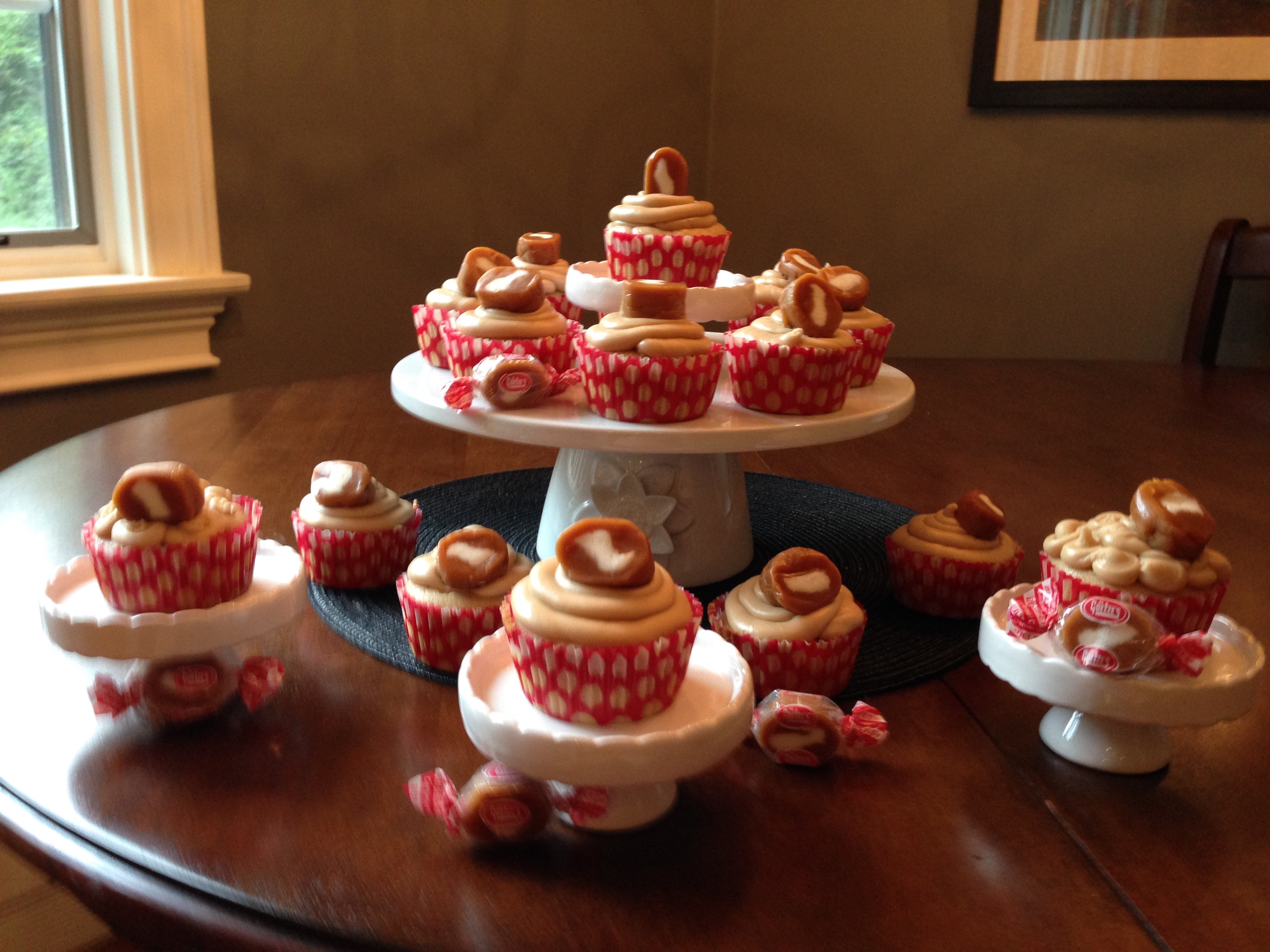 Ingredients
Cupcakes
3/4 cup (1 and 1/2 sticks) salted butter
1 and 2/3 cups all purpose flour
1 cup brown sugar, loosely packed
1/4 teaspoon baking soda
1 teaspoon baking powder
3 egg whites
1 teaspoon vanilla extract
1/2 cup sour cream
1/2 cup + 3 Tablespoons milk
Cream Filling
1/2 cup vegetable shortening
2 and 1/4 cups confectioners' sugar
1/2 teaspoon vanilla extract
1/8 cup water
Frosting
1/2 cup (1 stick) salted butter
1 cup light brown sugar
1/3 cup heavy cream
4 cups powdered sugar
3-4 Tablespoons milk
12-14 caramel cream candies
Directions
For the cupcakes:
Slice butter into Tablespoon sized pieces.
Heat butter in a light colored saucepan on medium heat until melted, whisking while it melts.
After the butter melts, it will foam and bubble. Keep whisking.
As the foam starts to fade, the butter will start to brown and have a nutty smell.
Once brown, remove it from heat and pour into another bowl to cool. The butter can go from brown to burned very quickly, so watch it carefully.
Preheat oven to 350°F.
Whisk together flour, sugar, baking soda and baking powder in a large mixing bowl.
Add egg whites, vanilla, sour cream and milk and mix on medium speed until smooth. Slowly add brown butter while mixing.
Fill cupcake liners a little more than half way.
Bake 18-20 minutes.
Allow to cool for 1-2 minutes, then remove to cooling rack to finish cooling.
Use a cupcake corer to remove the center of the cupcakes. If you don't have a corer, use a knife.
Spoon filling into the hole in the cupcakes.
Frost the cupcakes and top each with a caramel cream.
For the filling:
Beat the shortening until smooth.
Add the powdered sugar, vanilla extract and water and mix until smooth. Filling will be thick.
For the frosting:
Melt butter in a saucepan.
Add brown sugar and heavy cream and whisk constantly over medium heat until sugar is dissolved.
Bring to a boil and allow to boil for 3 minutes, no more.
Remove from heat and allow to cool for about 15 minutes.
Transfer caramel to mixer bowl.
Mix in powdered sugar, beginning with 3 cups and increasing from there until you get the desired consistency.
Add milk to thin out the icing a bit.
Allow icing to cool fully. Icing will be thick.
Nutrition
Total calories: 8,575
Calories per cupcake: 612