cinnamon swirl snickerdoodle cupcakes
vanilla cupcakes with cinnamon sugar layers topped with a vanilla cinnamon swirl frosting and garnished with a mini snickerdoodle
baked in December 2016
yield: 12 cupcakes
prep time: 25 minutes
cook time: 19 minutes
difficulty level: medium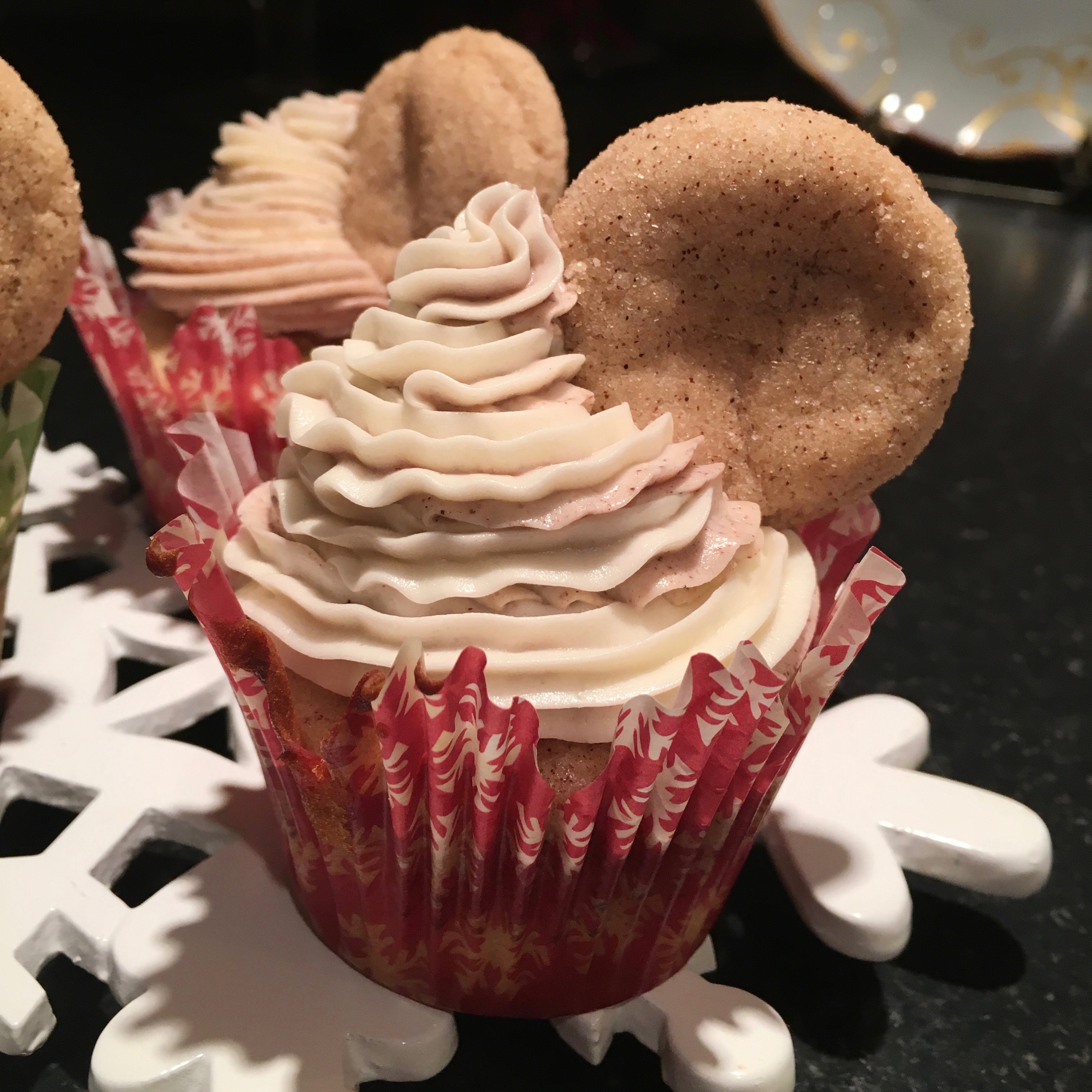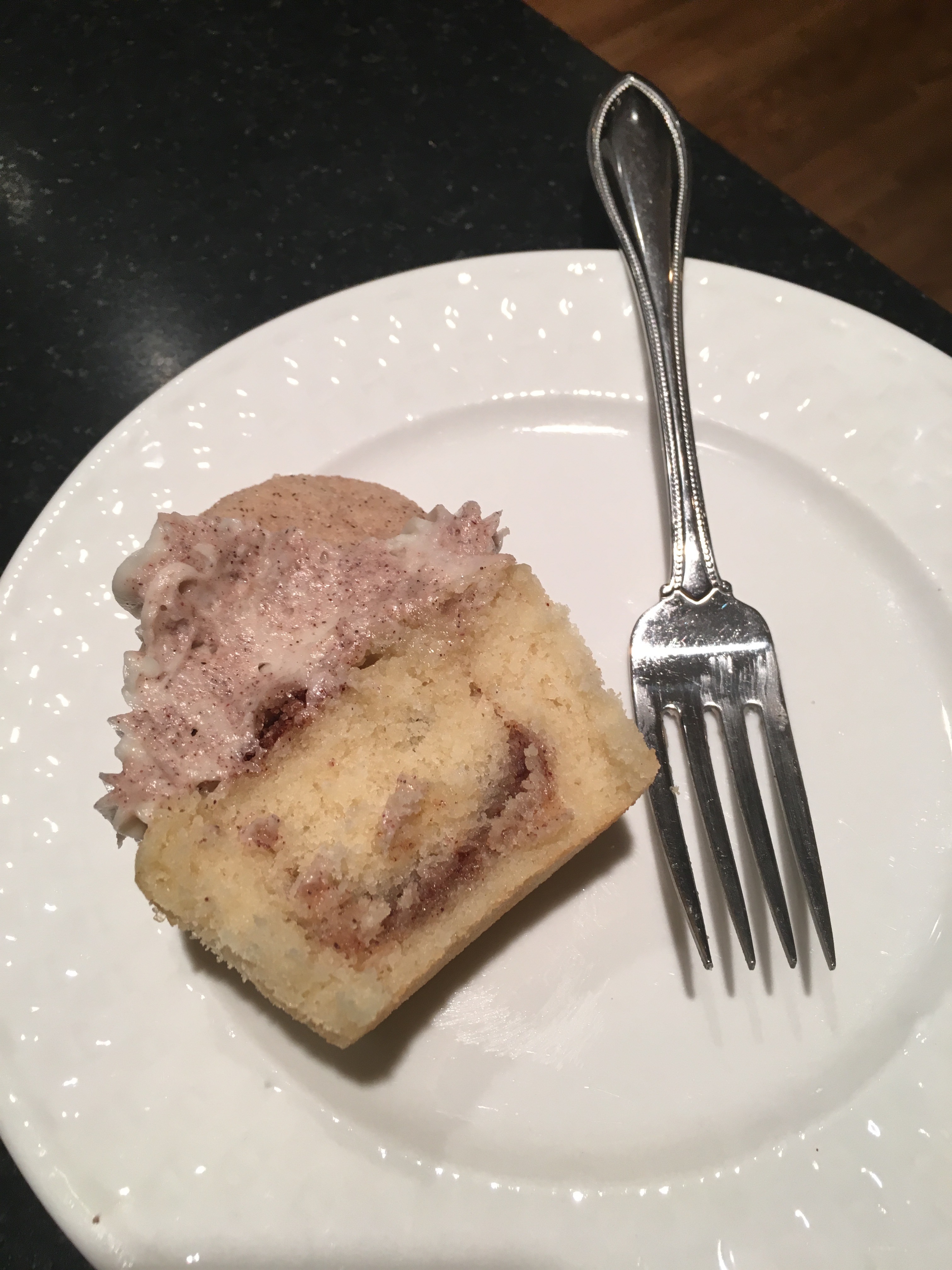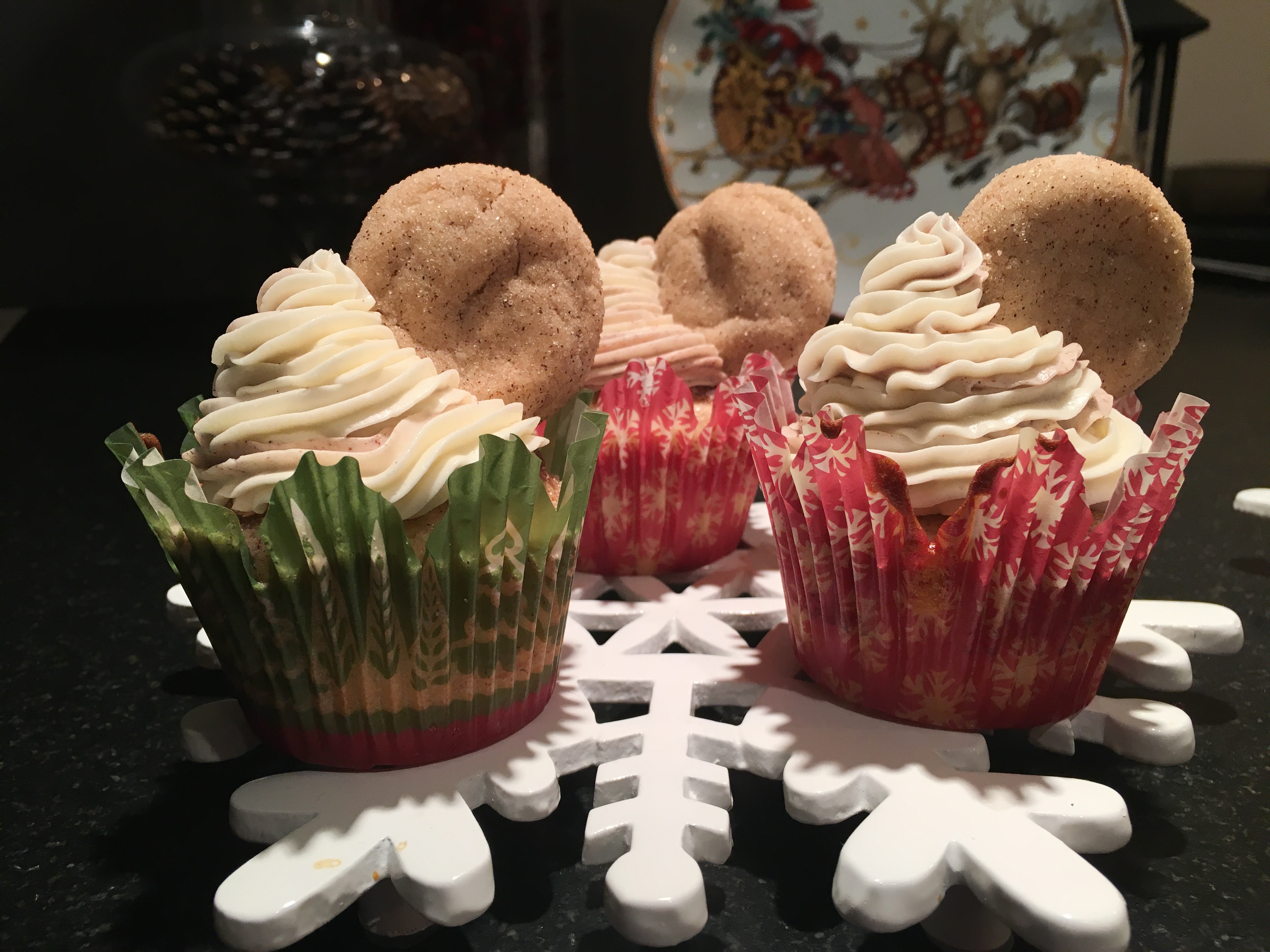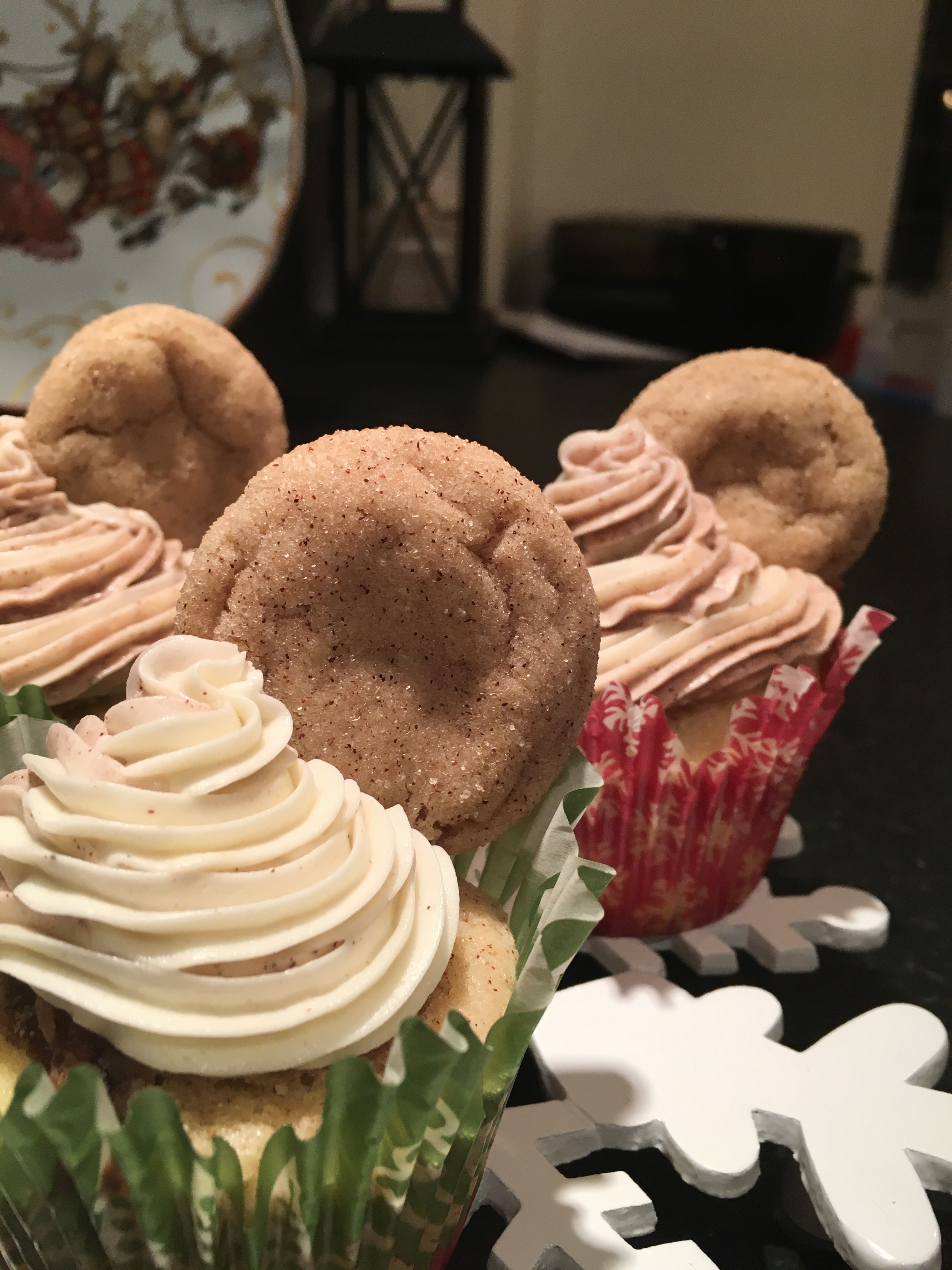 Ingredients
Cupcakes
1 and 2/3 cups all-purpose flour
1/2 teaspoon baking powder
1/4 teaspoon baking soda
1/2 teaspoon salt
1 and 1/2 cups granulated sugar, divided
1/2 cup (1 stick) unsalted butter, melted
1 large egg
1/4 cup yogurt or sour cream, at room temperature
3/4 cup milk, at room temperature
1 Tablespoon vanilla extract
2 teaspoons ground cinnamon
Frosting
1 cup (2 sticks) salted or unsalted butter, at room temperature
3-4 cups confectioners' sugar
1/4 cup heavy cream or half-and-half
2 teaspoons vanilla extract
1 Tablespoon ground cinnamon
12 snickerdoodle cookies, mini size

Use this snickerdoodle recipe: Snickerdoodles
Bake 12 2-teaspoonful scoops for 5-7 minutes
Directions
For the cupcakes:
Preheat oven to 350°F degrees. Line a 12-cup muffin pan with cupcake liners. Set aside.
In a medium bowl, mix together flour, baking powder, baking soda, and salt. Set aside.
In a large microwave-safe bowl, melt butter in the microwave.
Whisk in 1 cup of sugar - mixture will be gritty.
Stir in egg, yogurt, milk, and vanilla extract until combined.
Slowly mix in dry ingredients until no lumps remain. Batter will be thick.
In a small bowl, mix the remaining 1/2 cup of sugar and 2 teaspoons of cinnamon together. Set aside.
Spoon 2 scant Tablespoons of cupcake batter into each cupcake liner.
Top with 1 teaspoon of the cinnamon-sugar mixture.
Top with 1 heaping Tablespoon of cupcake batter, until the cupcake tins are about 3/4 full.
Top each cupcake with 1 teaspoon more of the cinnamon-sugar.
Bake the cupcakes for 19-21 minutes or until a toothpick inserted in the center comes out clean. Allow to cool completely before frosting.
For the frosting:
With a handheld or stand mixer, beat softened butter on high speed until smooth and creamy, about 1 minute.
Add confectioners' sugar, cream, and vanilla extract with the mixer running. Beat on low speed for 30 seconds, then increase to high speed and beat for 3 full minutes.
Remove half of the frosting from the mixing bowl and transfer to a smaller mixing bowl. Add 1 Tablespoon of cinnamon and beat until combined, about 30 seconds.
To swirl the frosting, spoon half cinnamon frosting into the piping bag and half vanilla frosting into the piping bag. Pipe onto cupcakes as desired.
Nutrition
Total calories: 6,096
Calories per cupcake: 508