ice cream sundae cupcakes
funfetti cupcakes with vanilla buttercream frosting and an ice cream sundae garnish
baked in June 2016
yield: 18 cupcakes
prep time: 25 minutes
cook time: 20 minutes
difficulty level: medium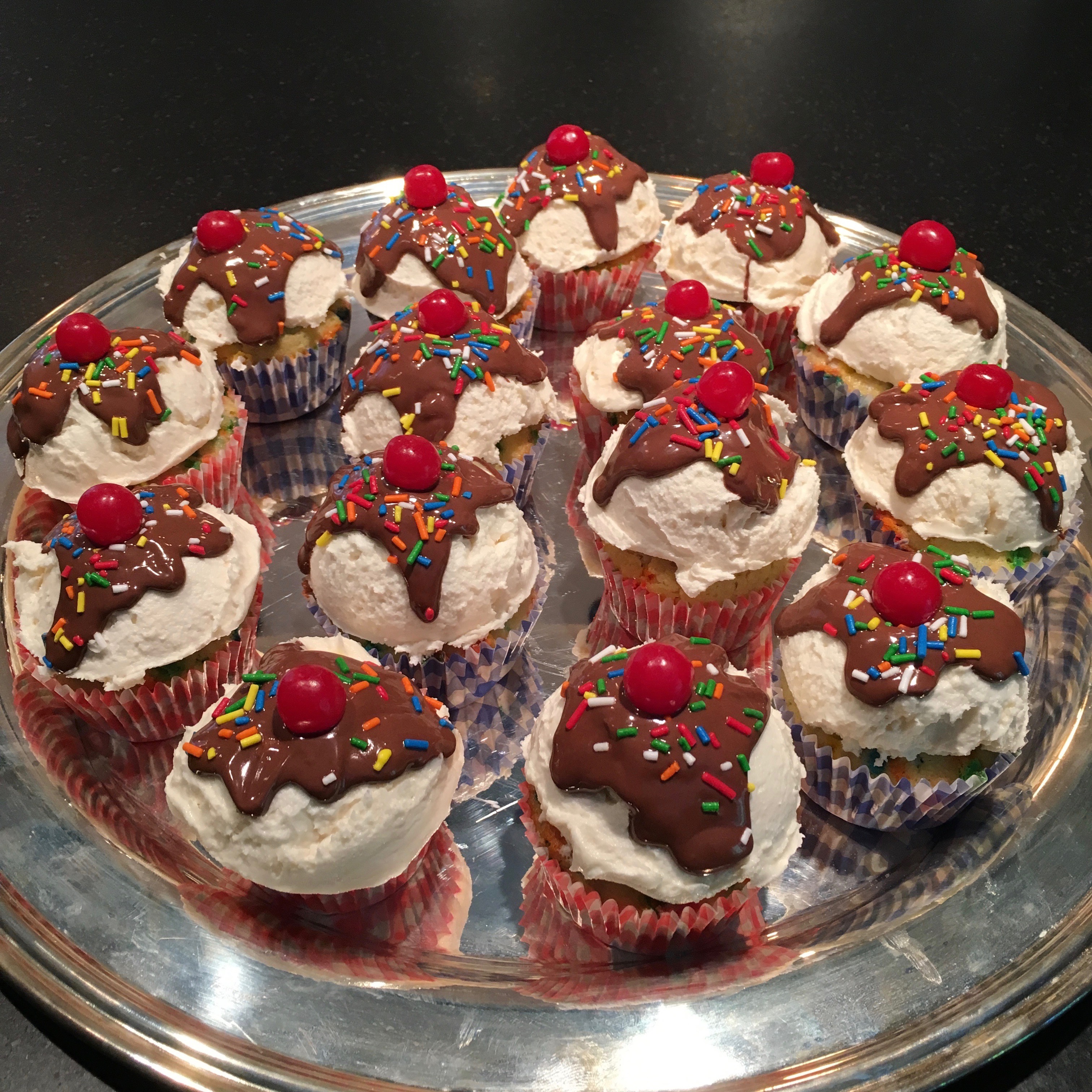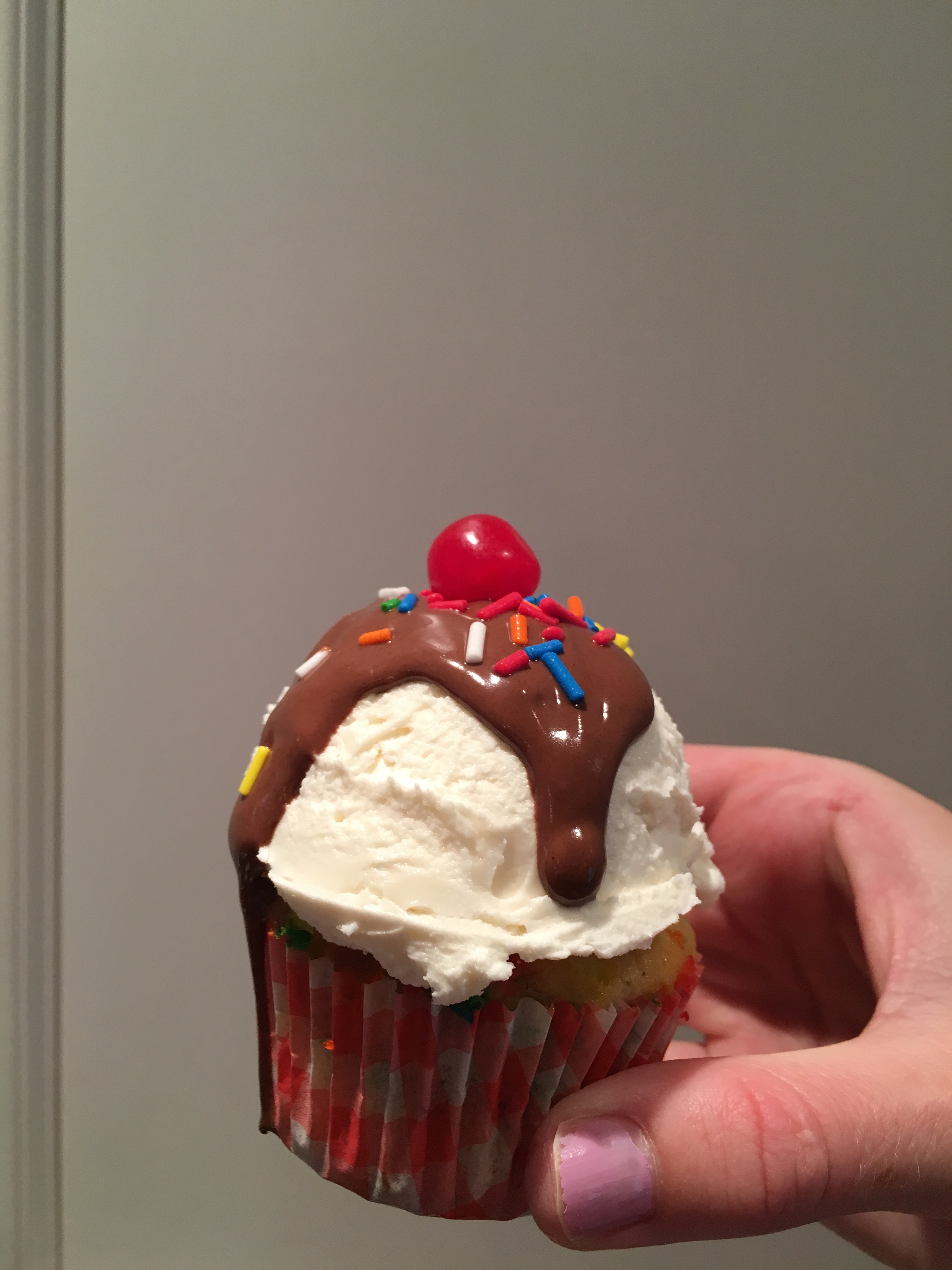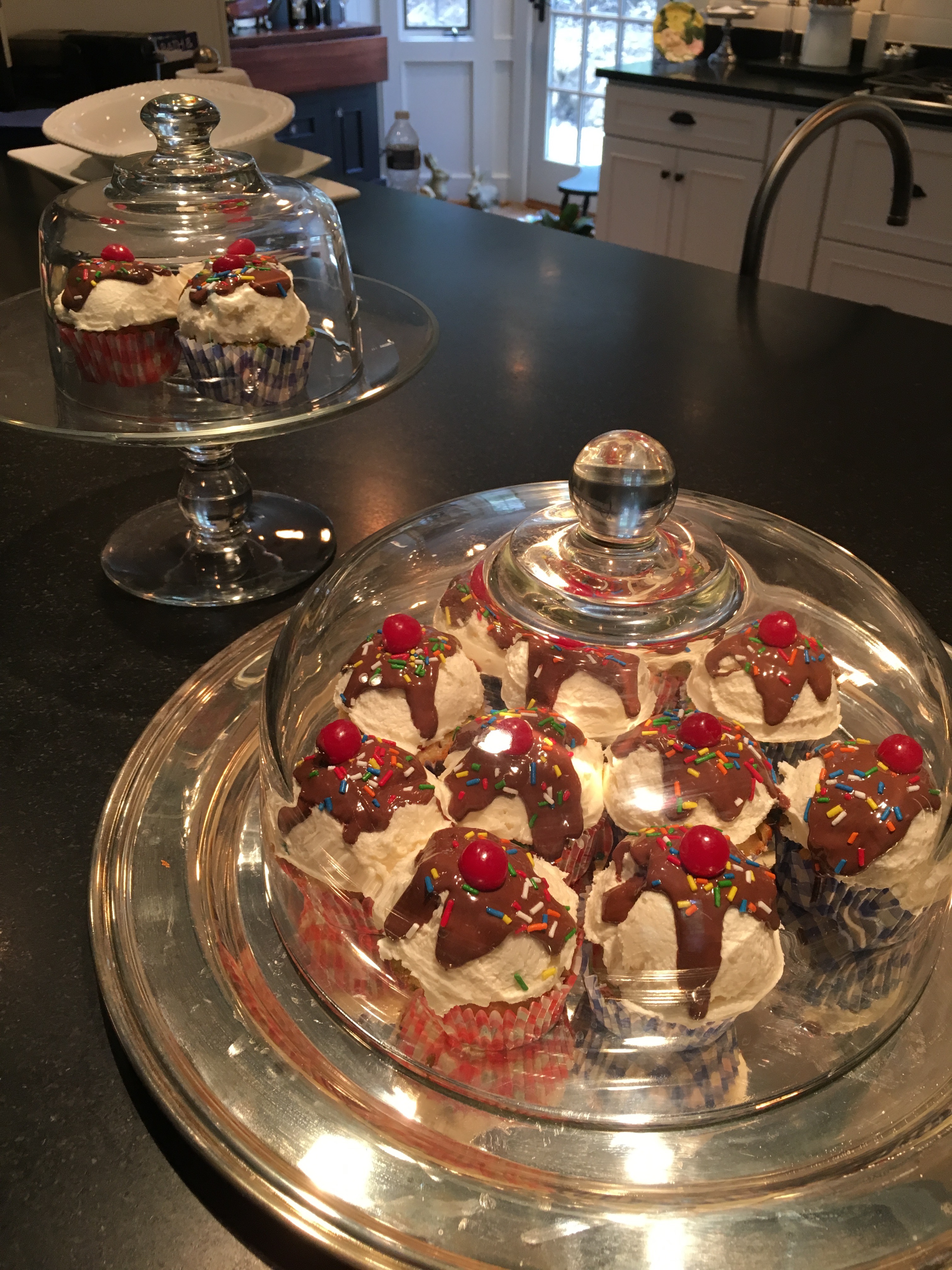 Ingredients
Cupcakes
1 and 2/3 cups all-purpose flour
2 teaspoons baking powder
1/4 teaspoon salt
1 cup granulated sugar
1 cup (2 sticks) butter, at room temperature
3 eggs
2/3 cup buttermilk
1 teaspoon vanilla extract
1/2 cup sprinkles
Frosting
3 and 1/2 cups powdered sugar
2 teaspoons vanilla extract
1 cup (2 sticks) butter, at room temperature
Topping
1 cup milk chocolate chips
1 Tablespoon vegetable oil
Sour cherry candies
Sprinkles
Directions
For the cupcakes:
Preheat oven to 350°F.
Sift the flour, baking powder, and salt into a medium bowl and set aside.
Cream your butter and sugar together with a mixer then add in eggs, milk and vanilla until blended.
Slowly add the dry ingredients until smooth, being sure not to over-mix.
Fold in the sprinkles.
Line a muffin tin with baking cups and fill each with the cake mixture, filling each about 3/4 full.
Bake for 20-25 minutes until a cake tester comes out clean.
Allow to cool in pan for 5 minutes before removing to a wire rack to cool completely.
For the frosting:
Cream the butter.
Slowly add icing sugar and vanilla extract.
Beat for about 3-4 minutes, or until frosting is light and fluffy.
For the topping:
Melt the chocolate chips in a microwave in 20 second intervals on medium power.
Stir in the vegetable oil until well combined and smooth.
Ensuring that the cupcakes are completely cooled. Use an ice cream scoop to to create mounds of buttercream on top of the cupcakes.
Use a butter knife to shape the buttercream to look like scoops of ice cream.
Spoon the chocolate mixture over your scoops of "ice cream" to replicate the look of chocolate syrup.
Decorate each cupcake with sprinkles and top with sour cherry candies.
Nutrition
Total calories: 8,396
Calories per cupcake: 466