pumpkin cupcakes
pumpkin cupckakes with cinnamon swirl frosting and acorn topping
baked in October 2015
yield: 14 cupcakes
prep time: 13 minutes
cook time: 17 minutes
difficulty level: easy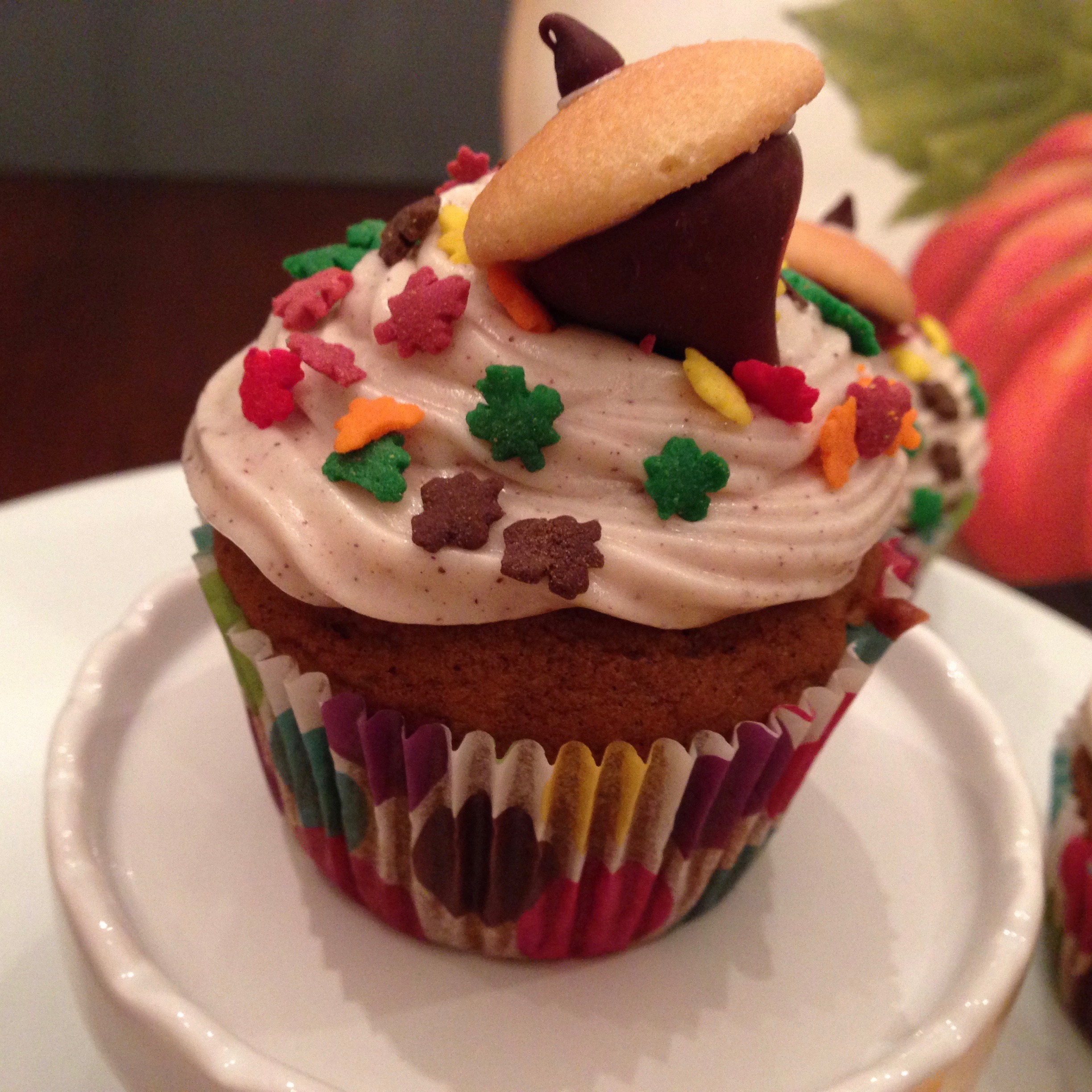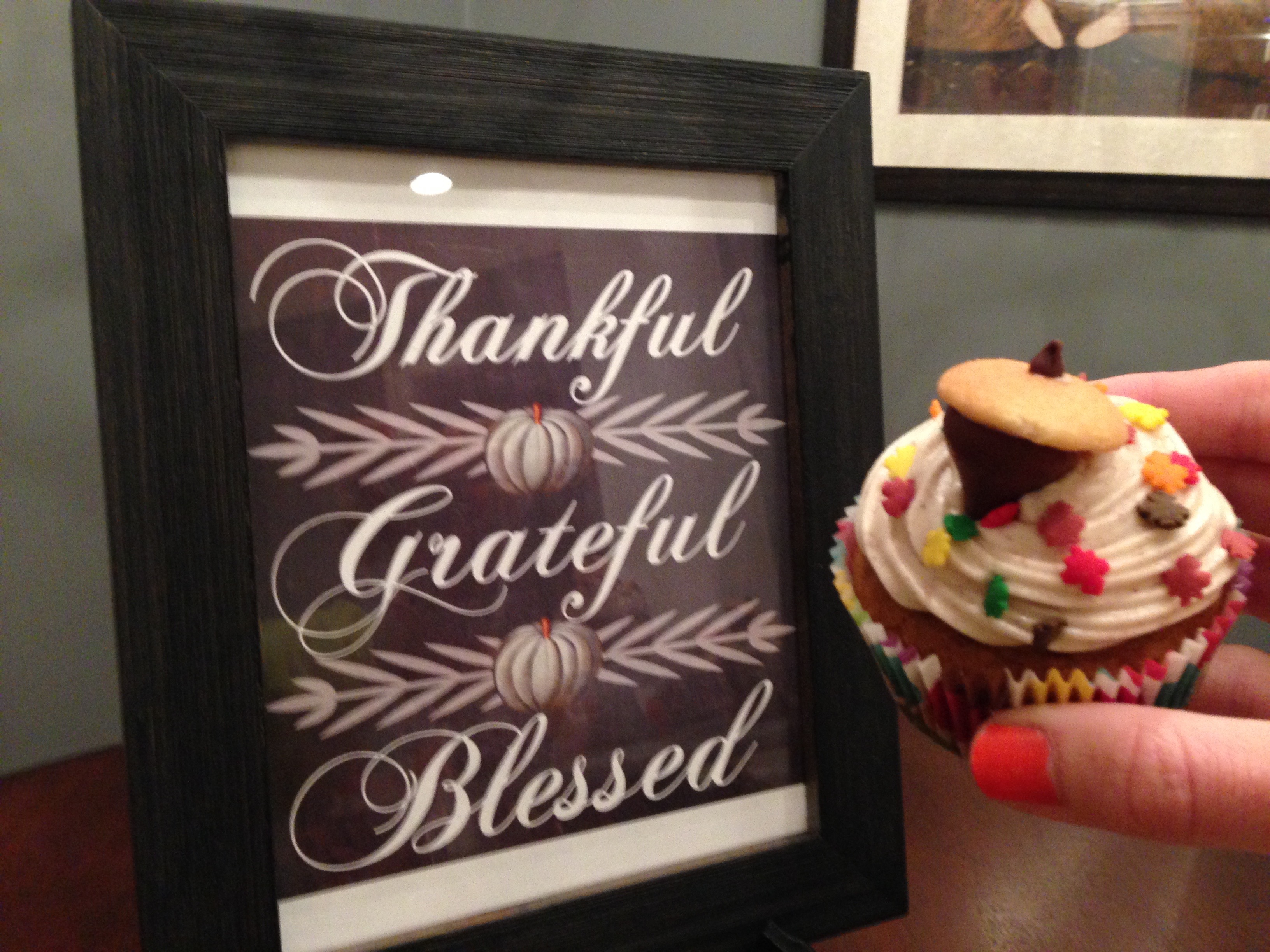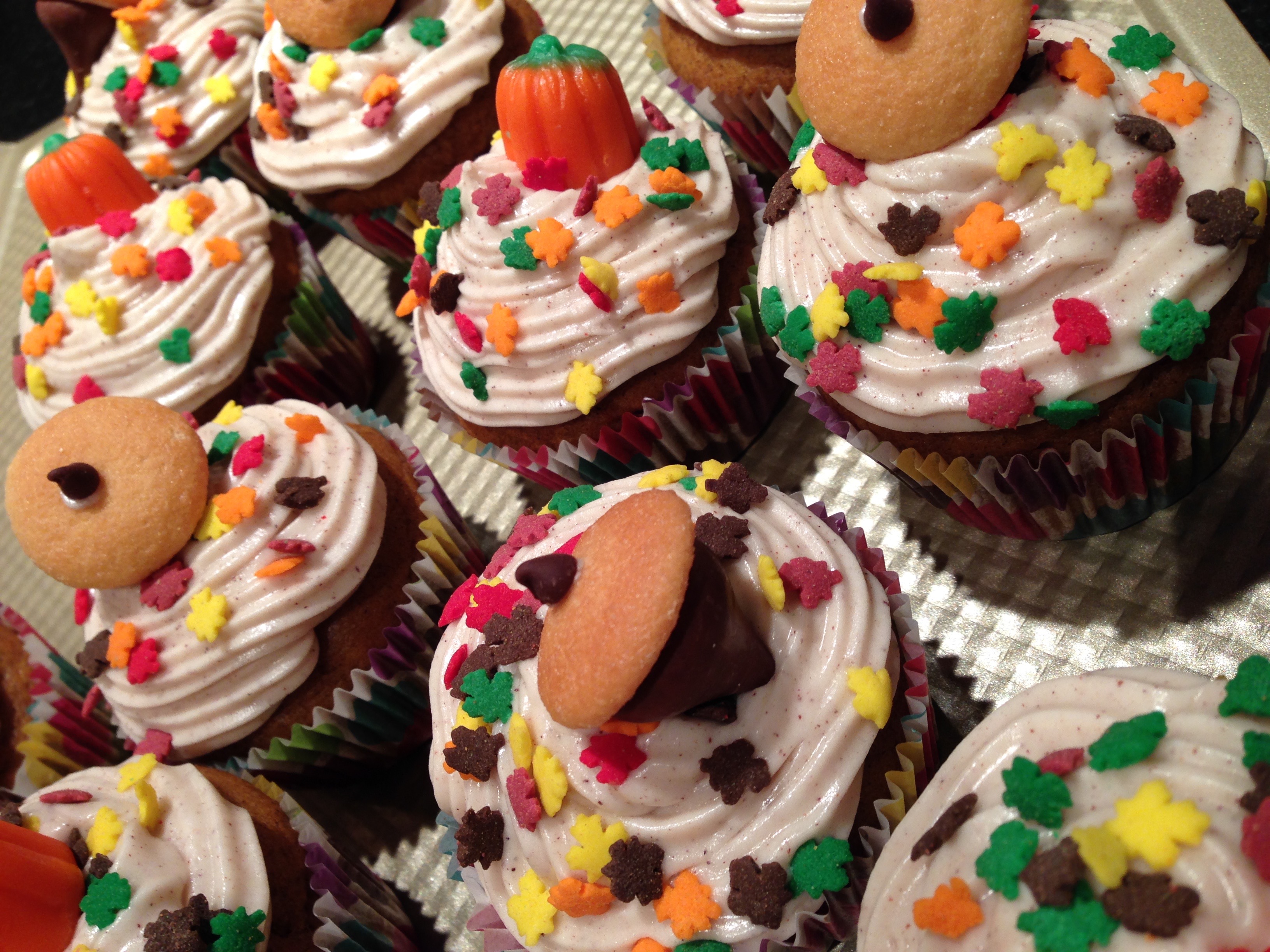 Ingredients
Cupcakes
1 and 3/4 cups all-purpose flour
1 teaspoon baking powder
1 teaspoon baking soda
1/2 teaspoon salt
1 and 1/2 teaspoons ground cinnamon
1 teaspoon pumpkin pie spice
2/3 cup packed dark brown sugar
2 large eggs
1 cup pumpkin puree
1/2 cup vegetable oil
1/3 cup milk
1 teaspoon vanilla extract
Frosting
1 cup (2 sticks) salted or unsalted butter, at room temperature
3-4 cups confectioners' sugar
1/4 cup heavy cream or half-and-half
2 teaspoons vanilla extract
2 Tablespoons ground cinnamon
Salt, to taste
Sprinkles
Pumpkin candy
Acorn Topping
14 mini Nilla wafers
14 Hershey's kisses
14 mini chocolate chips
Directions
For the cupcakes:
Preheat oven to 350°F. Line a 12-count muffin pan with cupcake liners or spray with nonstick spray. This recipe makes 14 cupcakes, so you will have a couple cupcakes to bake in a 2nd batch.
In a large bowl, toss the flour, baking powder, baking soda, salt, cinnamon, and pumpkin pie spice together until combined. Set aside.
In a medium bowl, whisk the brown sugar and eggs together until combined.
Whisk in the pumpkin, oil, milk, and vanilla until combined.
Pour the wet ingredients into the dry ingredients and stir until just combined. Do NOT overmix the batter.
Spoon the batter evenly into 14 cups.
Bake for 17-18 minutes or until a toothpick inserted in the center comes out clean.
Allow to cool completely before frosting.
For the frosting:
Beat softened butter on medium speed with an electric or stand mixer. Beat for about 3 minutes until smooth and creamy.
Add confectioners' sugar, cream, and vanilla extract with the mixer running.
Increase to high speed and beat for 3 full minutes (the longer you beat, the creamier the frosting).
Add more confectioners' sugar if frosting is too thin or more cream if the frosting is too thick.
Taste the frosting and add salt if frosting is too sweet (1/4 teaspoon). Add 2 Tablespoons of cinnamon and beat until combined, about 30 seconds.
For the acorn topping:
Use frosting to attach Hersey's kiss and mini chocolate chip to mini Nilla wafer.
Place one acorn on each cupcake.
Nutrition
Total calories: 6,252
Calories per cupcake: 447