pumpkin cupcakes with cream cheese frosting
light cakey pumpkin cupcakes with cream cheese frosting
baked in November 2018
yield: 24 cupcakes
prep time: 30 minutes
cook time: 20 minutes
difficulty level: easy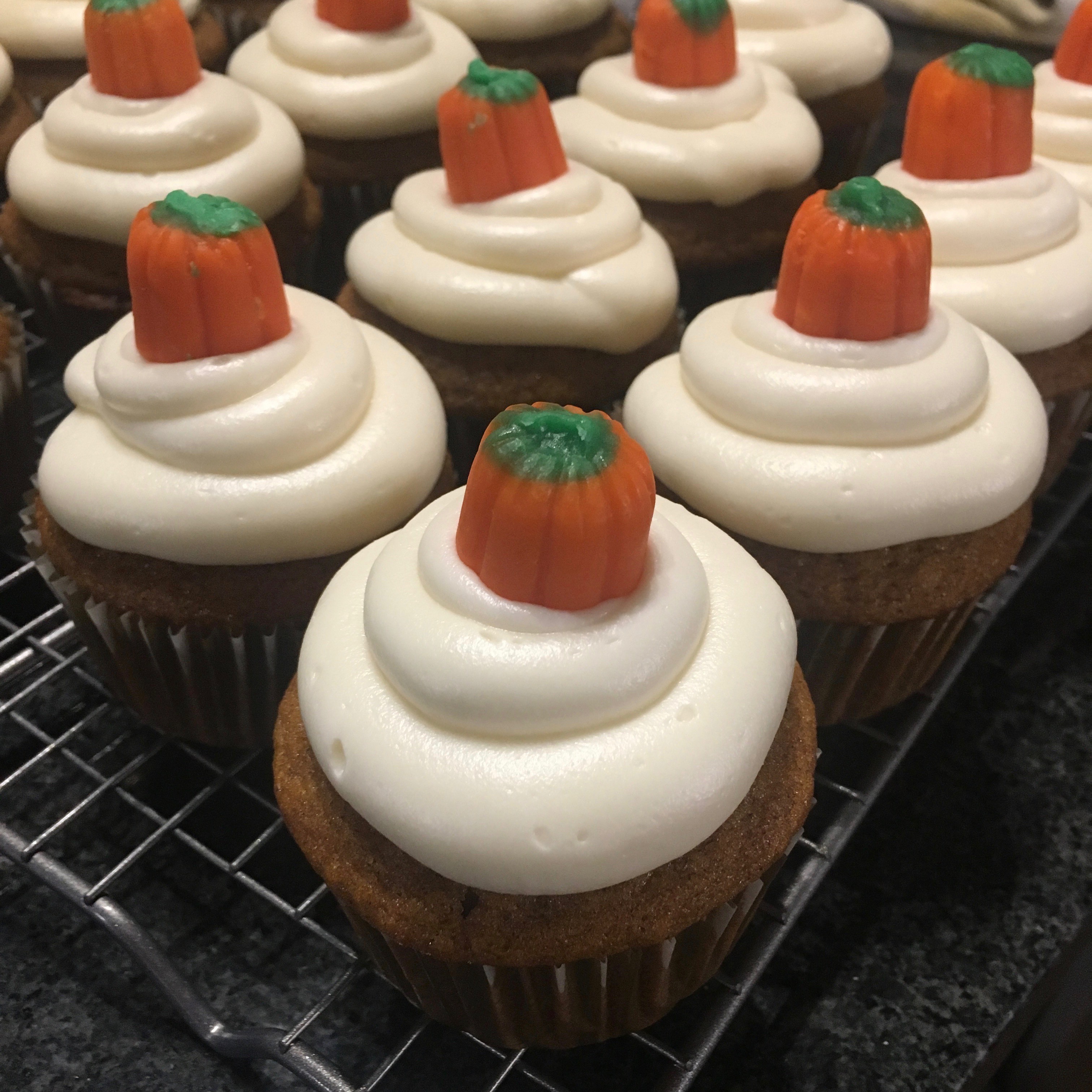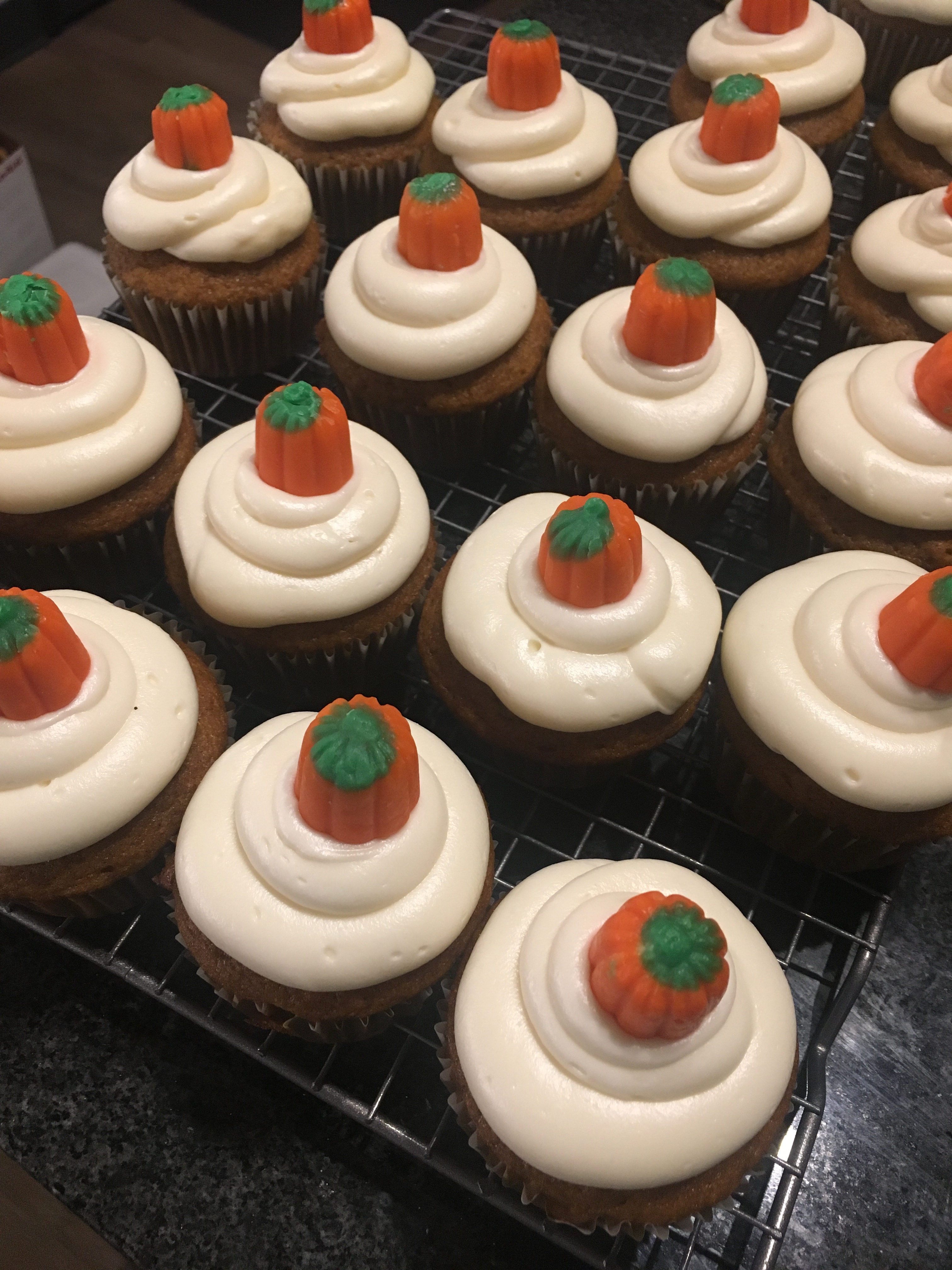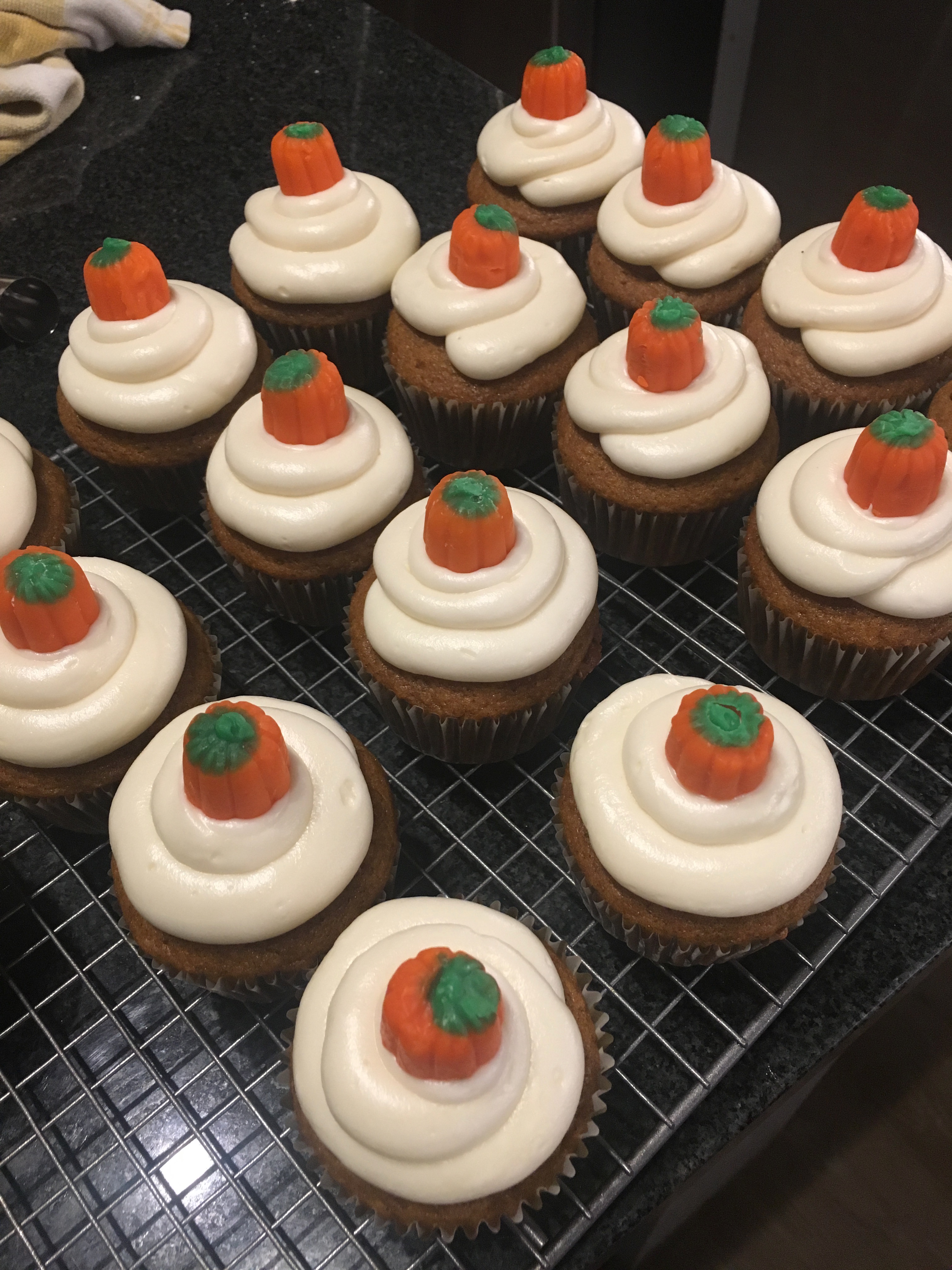 Ingredients
Cupcakes
2 cups all-purpose flour (spoon & leveled)
2 teaspoons baking powder
1 teaspoon baking soda
1 teaspoon salt
2 teaspoons ground cinnamon
1 Tablespoon pumpkin pie spice
1 cup canola or vegetable oil
4 large eggs
1 cup packed light or dark brown sugar
1/2 cup granulated sugar
1 (15 ounce) can pumpkin puree
2 teaspoons pure vanilla extract
Frosting
16 ounces (2 packages) full-fat block cream cheese, at room temperature
1 cup (2 sticks) unsalted butter, at room temperature
6 cups confectioners' sugar
2 teaspoon pure vanilla extract
1/4 teaspoon salt
Topping
Directions
For the cupcakes:
Preheat the oven to 350°F. Line muffin pans with cupcake liners.
Whisk the flour, baking powder, baking soda, salt, cinnamon, and pumpkin pie spice together in a large bowl. Set aside.
Whisk the oil, eggs, brown sugar, pumpkin, and vanilla extract together until combined.
Pour the wet ingredients into the dry ingredients and use a mixer or whisk until completely combined. Batter will be thick.
Pour/spoon the batter into the liners - fill only 2/3 full to avoid spilling over the sides.
Bake for 20-22 minutes, or until a toothpick inserted in the center comes out clean. Allow the cupcakes to cool completely before frosting.
For the frosting:
In a large bowl using a handheld or stand mixer fitted with a paddle or whisk attachment, beat the cream cheese and butter together on high speed until smooth and creamy.
Add confectioners' sugar, vanilla, and salt.
Beat on low speed for 30 seconds, then switch to high speed and beat for 2 minutes.
Frost cooled cupcakes however you'd like. Place one pumpkin candy on each cupcake.
Nutrition
Total calories: 10,533
Calories per cupcake: 439