tagalong cupcakes
vanilla cupcakes with a tagalong bottom, peanut butter frosting, chocolate drizzle, and tagalong topping
baked in March 2016
yield: 18 cupcakes
prep time: 45 minutes
cook time: 15 minutes
difficulty level: medium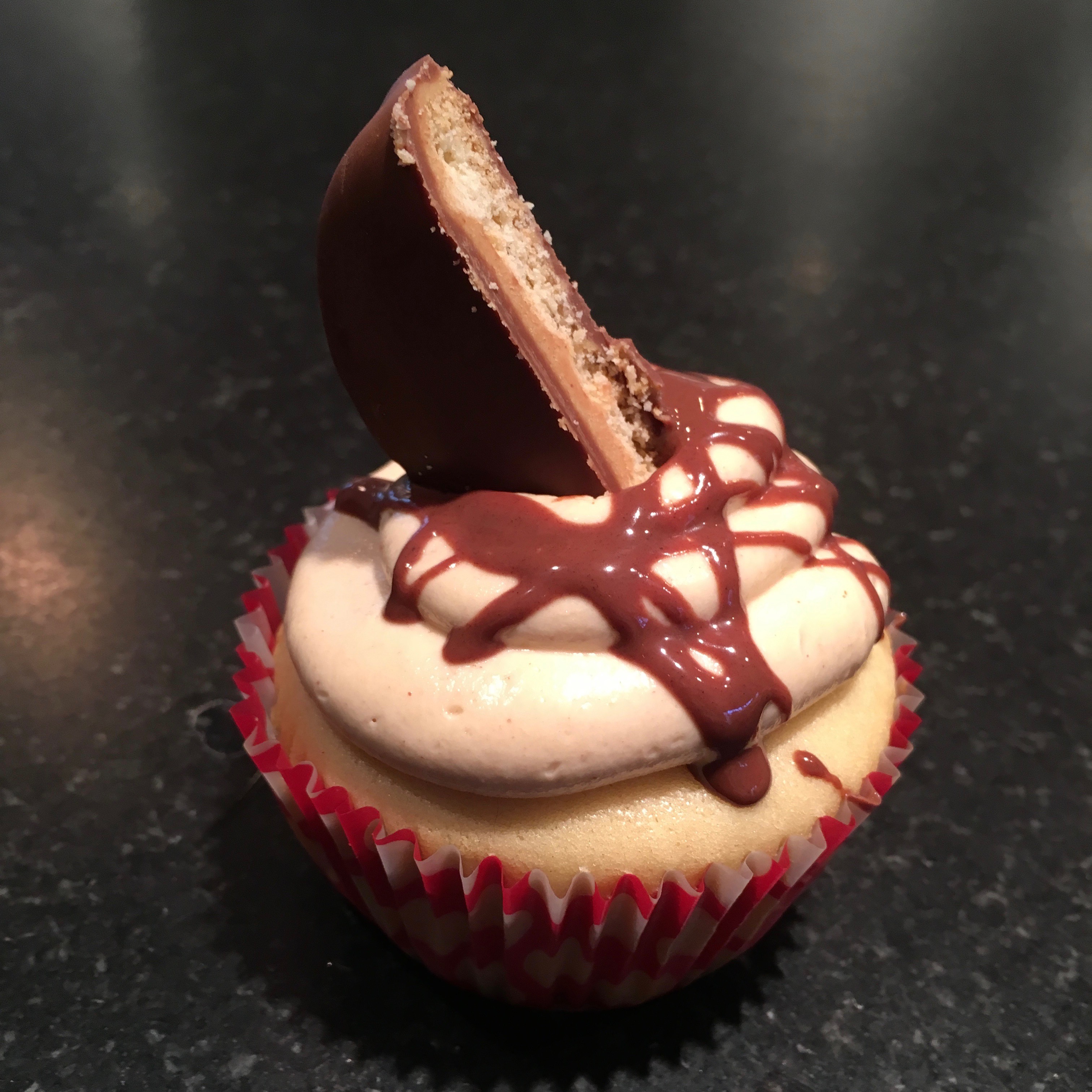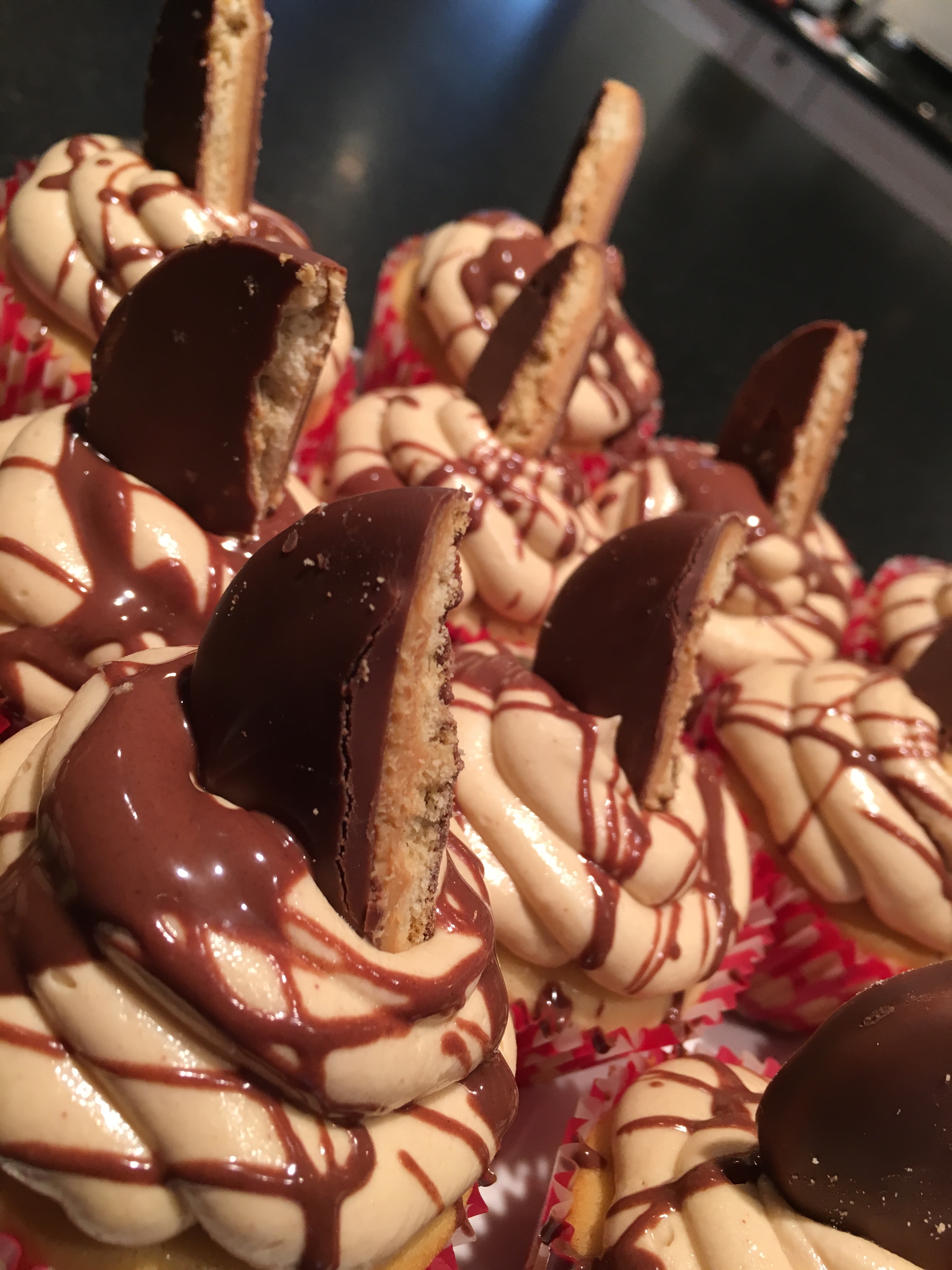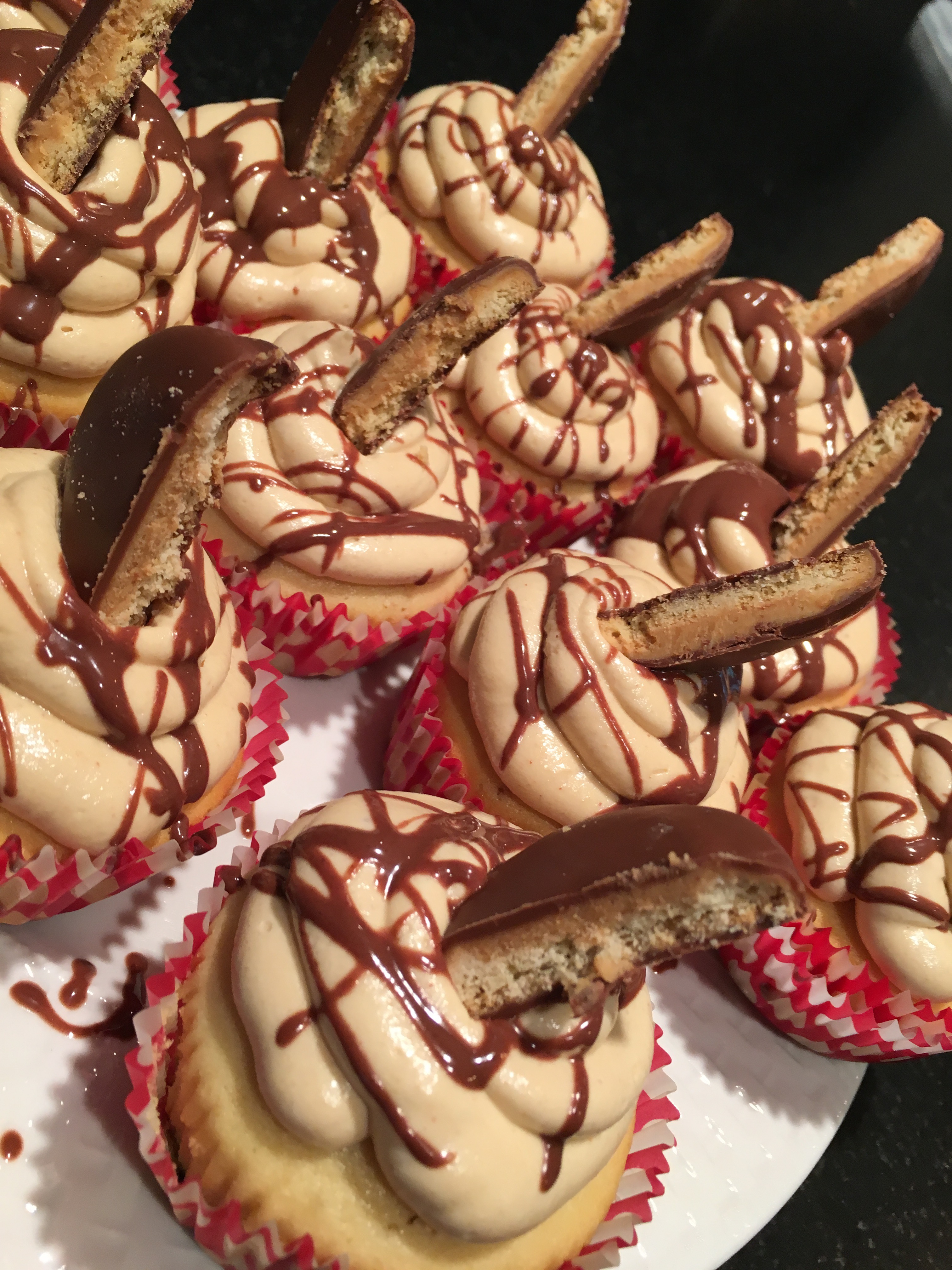 Ingredients
Cupcakes
1 cup cake flour
1/2 cup all-purpose flour
1/2 cup granulated sugar
1 teaspoon baking powder
1/2 teaspoon baking soda
1/2 teaspoon salt
1/2 cup (1 stick) unsalted butter, at room temperature
2 large eggs
1/4 cup Greek yogurt or sour cream
1/4 cup milk
1 Tablespoon vanilla extract
18 Tagalongs
Frosting
3 egg whites
1 cup granulated sugar
1 cup (2 sticks) unsalted butter, softened slightly but still cool
1 cup creamy peanut butter
6 ounces milk chocolate, melted
9 Tagalongs, cut in half (for garnish)
Directions
For the cupcakes:
Preheat the oven to 350°F and line a cupcake pan with papers.
Place the first 6 (dry) ingredients in a large mixing bowl, and mix on low speed to combine.
Add the butter, stirring on low speed until the mixture resembles damp sand (about a minute).
Add the eggs, one at a time, scraping the sides and bottom of the bowl to be sure all of the ingredients are fully incorporated.
Add the yogurt, milk, and vanilla extract. Stir until fully combined.
Place a Tagalong in each cupcake paper. Fill the papers half full with batter, and bake for 15 minutes, or until a toothpick inserted into the center of a cupcake comes out clean or with a few moist crumbs.
Cool completely before frosting and drizzling with melted chocolate.
For the frosting:
Place the egg whites and sugar in a mixing bowl. Set over a pot of simmering water, and whisk continuously, until the mixture is hot, opaque, and the sugar is completely dissolved (it should not feel gritty between your fingers), about 5 minutes.
Whip the mixture on high speed, until stiff peaks form and it has completely cooled. (There should be no hint of warmth remaining when you place your hand on the side of the mixing bowl. Place the bowl and whip attachment in the refrigerator for 10-20 minutes, if needed.)
Add the butter, a Tablespoon at a time, whipping well after each addition. If it begins to look curdled, continue to beat until it comes back together, before adding the remaining butter.
Stir in the peanut butter.
Pipe onto the cooled cupcakes.
Melt the chocolate in the microwave and drizzle on top of cupcakes.
Top with half a Tagalong, for garnish.
Nutrition
Total calories: 8,324
Calories per cupcake: 463