fleur de sel caramels
soft and chewy salted caramel
baked in June 2017
yield: 20 caramels
cook time: 20 minutes
difficulty level: hard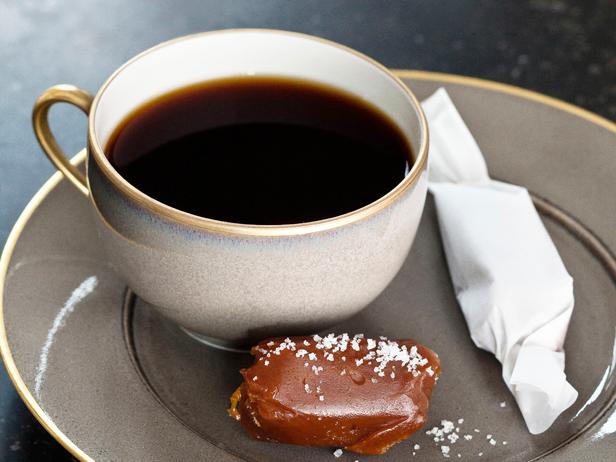 image from Food Network
Ingredients
Vegetable oil
1 and 1/2 cups sugar
1/4 cup light corn syrup
1 cup heavy cream
5 Tablespoons unsalted butter
1 teaspoon fine fleur de sel, plus extra for sprinkling
1/2 teaspoon pure vanilla extract
Directions
Line an 8-inch square baking pan with parchment paper, allowing it to drape over 2 sides, then brush the paper lightly with oil.
In a deep saucepan (6 inches wide and 4 1/2 inches deep), combine 1/4 cup water, the sugar and corn syrup and bring them to a boil over medium-high heat. Boil until the mixture is a warm golden brown. Don't stir -- just swirl the pan.
In the meantime, in a small pot, bring the cream, butter and 1 teaspoon of fleur de sel to a simmer over medium heat. Turn off the heat and set aside.
When the sugar mixture is done, turn off the heat and slowly add the cream mixture to the sugar mixture. Be careful -- it will bubble up violently.
Stir in the vanilla with a wooden spoon and cook over medium-low heat for about 10 minutes, until the mixture reaches 248°F (firm ball) on a candy thermometer.
Very carefully (it's hot!) pour the caramel into the prepared pan and refrigerate for a few hours, until firm.



When the caramel is cold, pry the sheet from the pan onto a cutting board. Sprinkle the caramel with fleur de sel.
Cut the caramel using a sharp knife into 16 equally-sized pieces.
Cut glassine or parchment paper into 4-by-5-inch pieces and wrap each caramel individually, twisting the ends. Store in the refrigerator and serve the caramels chilled.
Nutrition
Total calories: 2,727
Calories per caramel: 136