salted pretzel marshmallow bars
salted pretzel bars with toasted marshmallow topping and peanut butter, and chocolate drizzle
baked in February 2016
yield: 16 bars
prep time: 45 minutes
cook time: 25 minutes
difficulty level: easy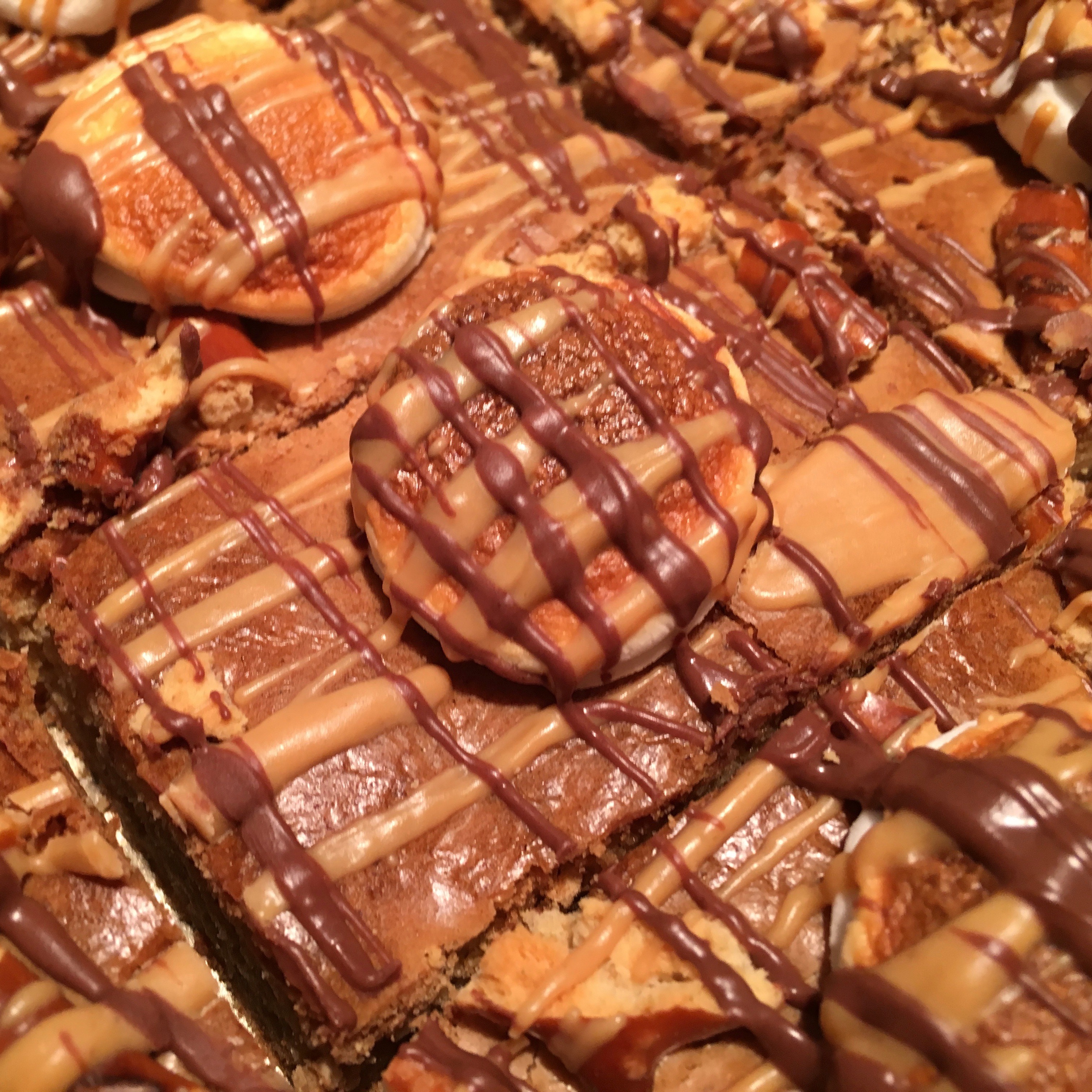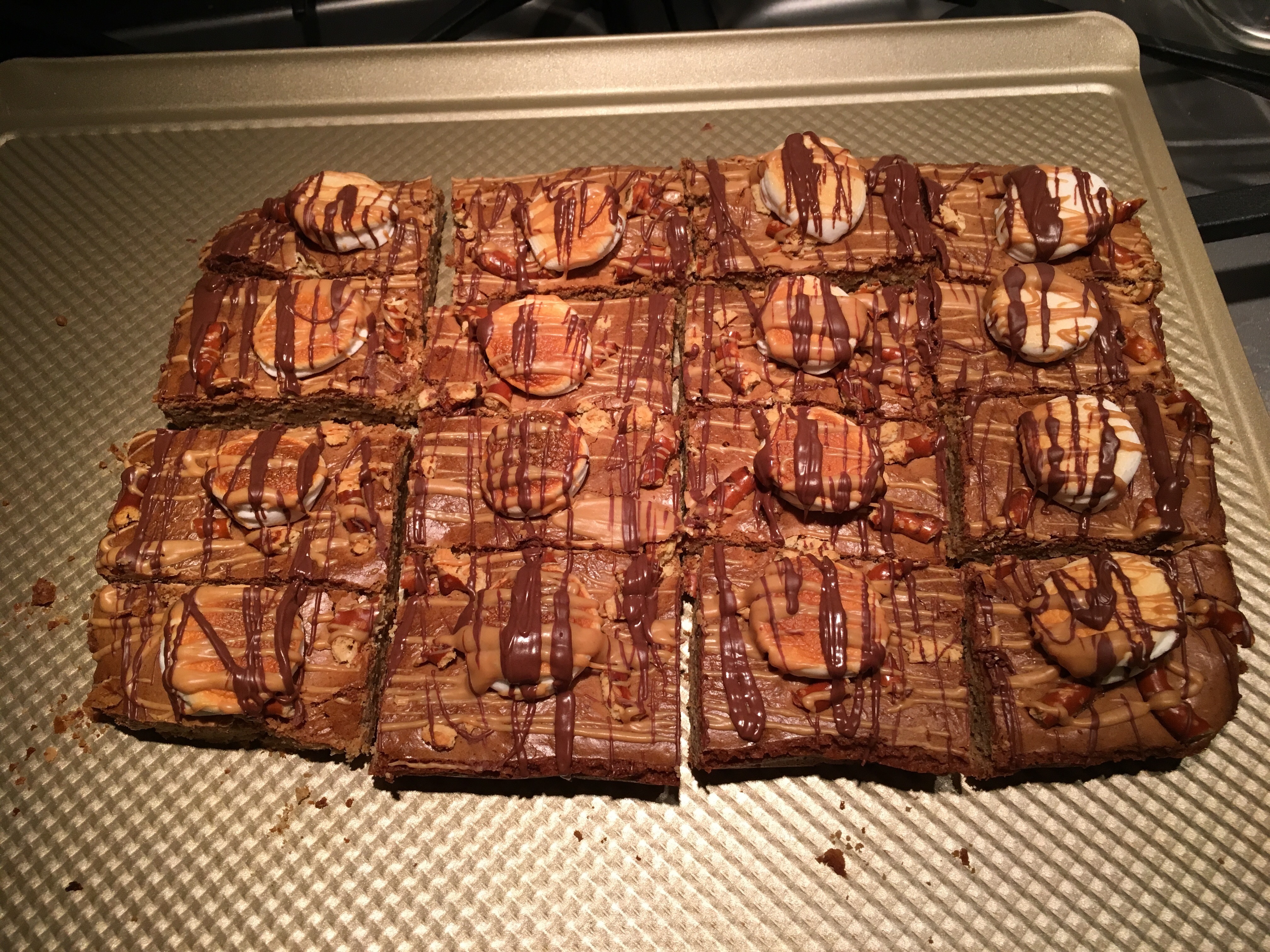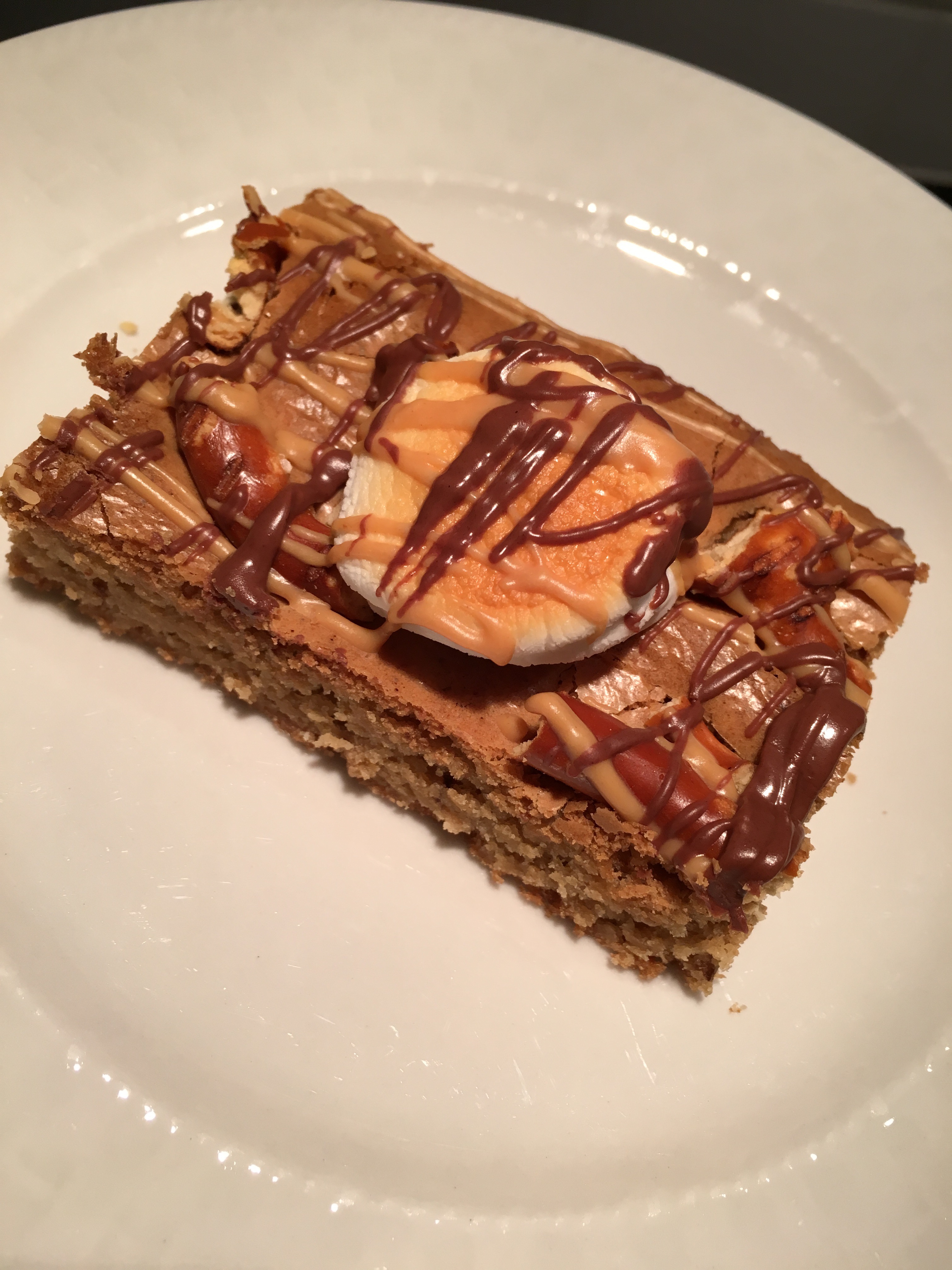 Ingredients
Bars
1 and 1/2 cups broken pretzel pieces
1 and 1/4 cups all-purpose flour
1 and 1/2 teaspoons baking powder
1 teaspoon kosher salt
1/2 cup (1 stick) unsalted butter
1 and 1/2 cups packed light brown sugar
2 large eggs, lightly beaten
2 teaspoons vanilla extract
Topping
8 marshmallows, cut in half
1/4 cup peanut butter chips
1 teaspoon vegetable oil
1/4 cup milk chocolate chips
Directions
For the bars:
Position a rack in the middle of the oven and preheat to 350°F.
Line a 9-by-13-inch baking pan with aluminum foil, leaving a 2-inch overhang on all sides. Lightly spray the foil with cooking spray.
Pulse 1 cup pretzel pieces in a food processor until finely ground (you should have about 1/2 cup crumbs). Transfer to a bowl.
Whisk in the flour, baking powder and salt.
Melt the butter in a saucepan over medium heat.
Remove from the heat and stir in the brown sugar.
Let cool slightly, then stir in the eggs and vanilla.
Stir the pretzel crumb mixture into the butter mixture in two additions.
Spread the batter in the prepared pan. Scatter the remaining 1/2 cup pretzel pieces on top.
Bake until golden and a toothpick inserted into the center comes out clean with a few crumbs, 25 to 30 minutes.
Let cool completely in the pan on a rack, then lift the foil to remove the bars from the pan and transfer to a baking sheet.
For the topping:
Preheat the broiler.
Press the marshmallow halves, cut-side down, in even rows on top of the bars. Broil, rotating the baking sheet as needed, until the marshmallows are golden brown, 1 to 2 minutes. Let cool.
Put the peanut butter chips and 1/2 teaspoon vegetable oil in a microwave-safe bowl and microwave in 30-second intervals, stirring, until melted and smooth. Drizzle the melted peanut butter over the bars in one direction.
Repeat with the chocolate chips and the remaining 1/2 teaspoon vegetable oil in another bowl. Drizzle the melted chocolate over the bars in the direction perpendicular to the peanut butter drizzles.
Let harden at room temperature or chill to set before cutting.
Nutrition
Total calories: 4,188
Calories per bar: 262