s'moreos brownies
gooey three layer bars with chocolate chip cookie dough, golden oreos, brownie batter, and toasted marshmallow topping
baked in May 2017
yield: 16 brownies
prep time: 30 minutes
cook time: 30 minutes
difficulty level: easy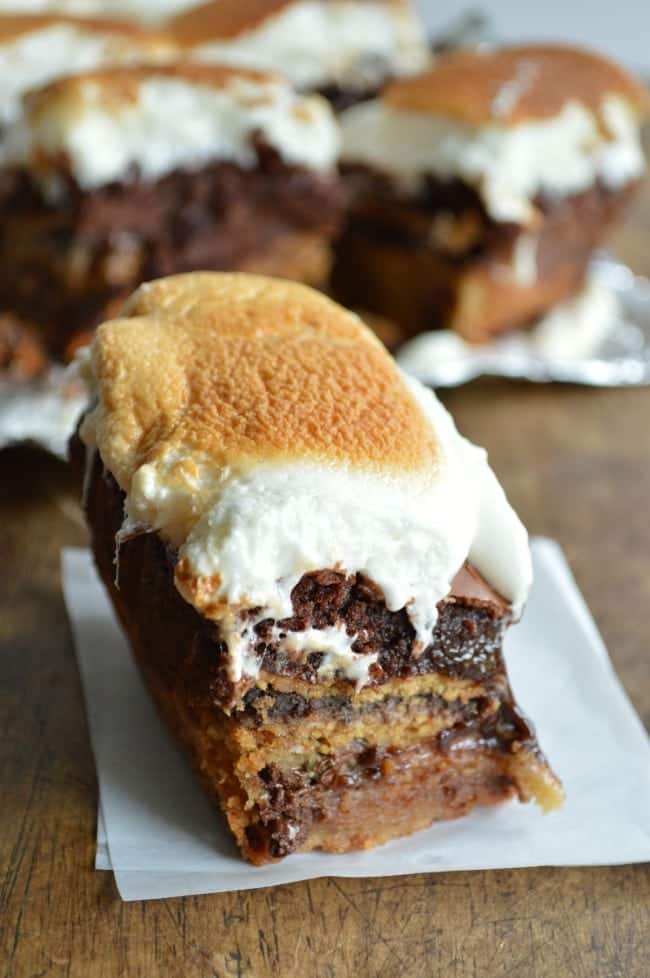 image from Sugar Dish Me
Ingredients
Cookie Dough
3/4 cup (1 and 1/2 sticks) unsalted butter, at room temperature
3/4 cup packed light brown sugar
3/4 cup granulated sugar
1 Tablespoon vanilla extract
1 egg
1 and 3/4 cups all-purpose flour
1 Tablespoon cornstarch
3/4 teaspoon sea salt + more to sprinkle over each cookie before baking
1 and 1/2 cups milk chocolate chips
Brownie Batter
2/3 cup flour
1/2 teaspoon baking soda
1/2 teaspoon salt
2 Tablespoons unsalted butter
1/2 cup granulated sugar
2 Tablespoons water
1 and 1/2 cups semisweet chocolate chips
2 eggs
1 teaspoon vanilla extract
Other Ingredients
16 golden oreos
8 jumbo marshmallows
Directions
Preheat the oven to 325°F. Line a 9x9-inch square baking pan with foil or parchment paper. Generously butter the paper.
Prepare the cookie dough:

In a large bowl, beat together the butter and sugars until fluffy.
Add the vanilla and egg and beat until just combined.
Add the flour, cornstarch, and sea salt all at once and mix until the dough comes together.
Stir in the chocolate chips.

Prepare the brownie batter:

In a medium bowl, whisk together the flour, baking soda, and salt. Set aside.
In a saucepan over medium heat, melt the butter and whisk in the sugar and water until the sugar is dissolved.
Remove the pan from the heat and stir in the chocolate chips until melted.
Beat in the eggs and vanilla.
Gradually mix in the flour mixture.

Press the cookie dough into the pan. Cover it with a single layer of golden oreos. Pour the brownie batter on top.
Bake for 30-35 minutes.
Slice the marshmallows in half and place them cut-side down across the top of the brownies.
Put the oven on broil (high) and broil just until the tops are a pretty golden brown. You may need to turn the pan once to brown the whole pan evenly.
Remove the pan from oven and cool completely. Lift the foil or parchment from the pan, peel away from the edges, and slice with a good sharp knife.
Nutrition
Total calories: 9,340
Calories per brownie: 584