sugar cookie cups
sugar cookie cups with vanilla buttercream frosting and mini cadbury egg topping
baked in March 2018
yield: 36
prep time: 30 minutes
cook time: 15 minutes
difficulty level: easy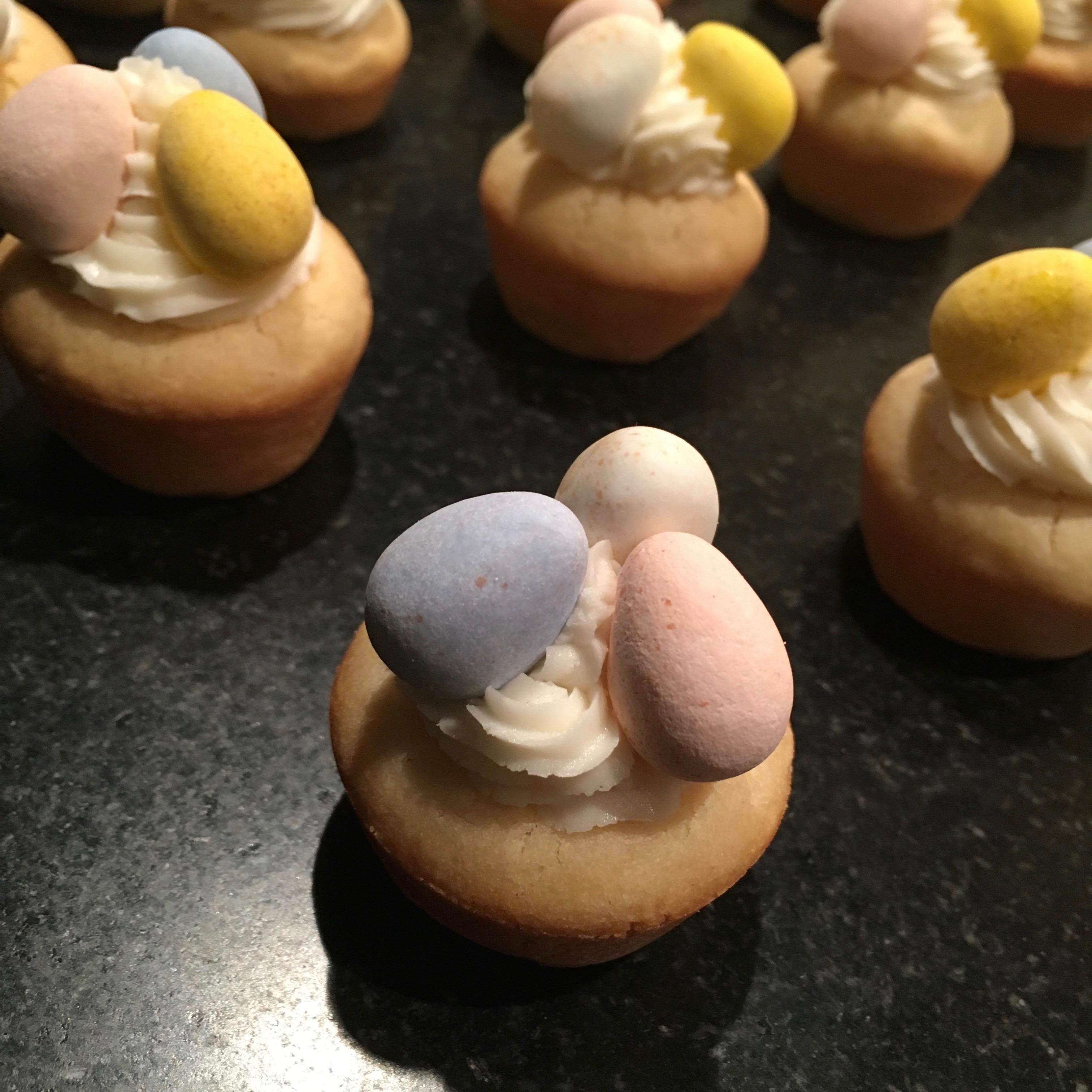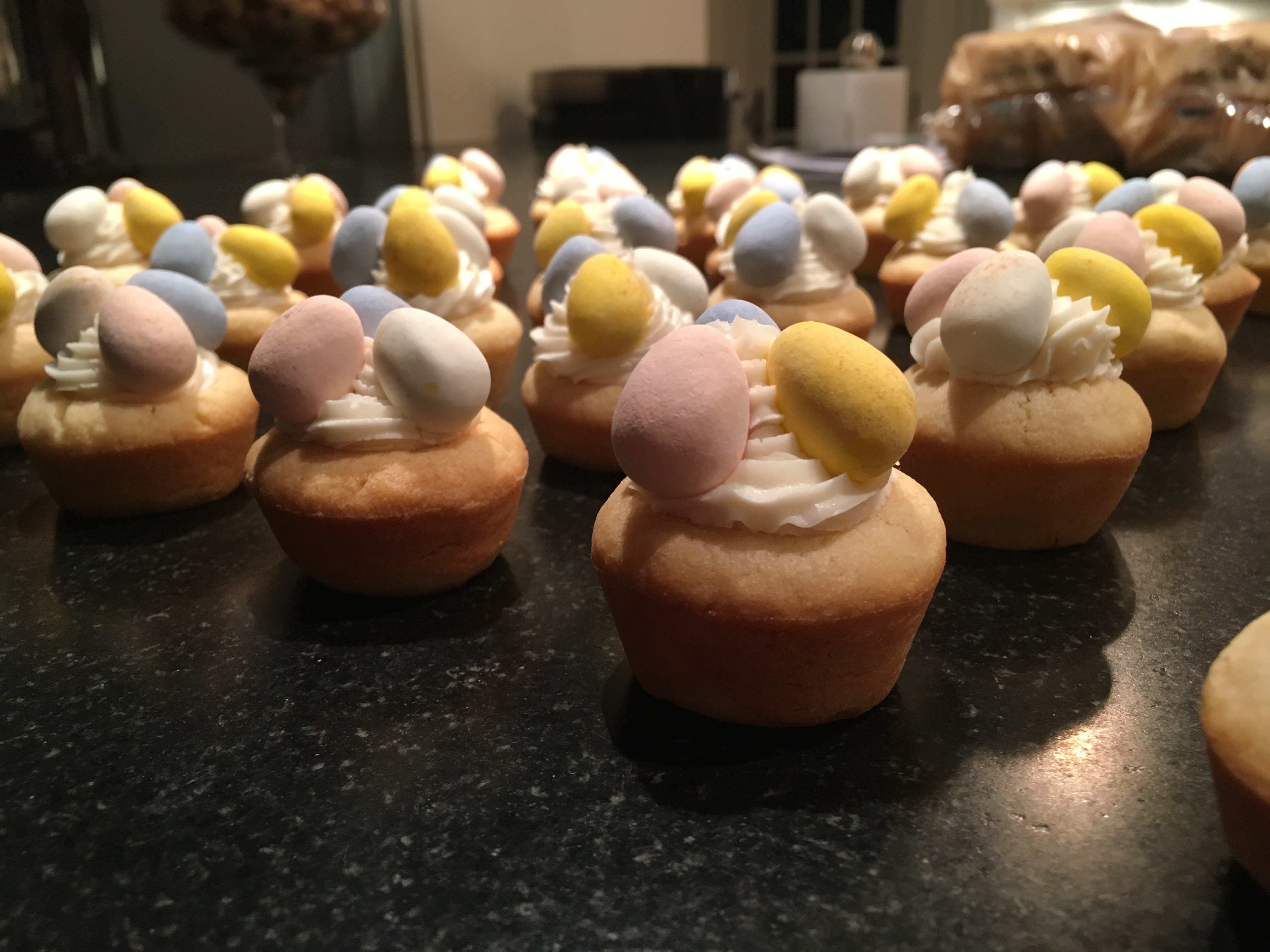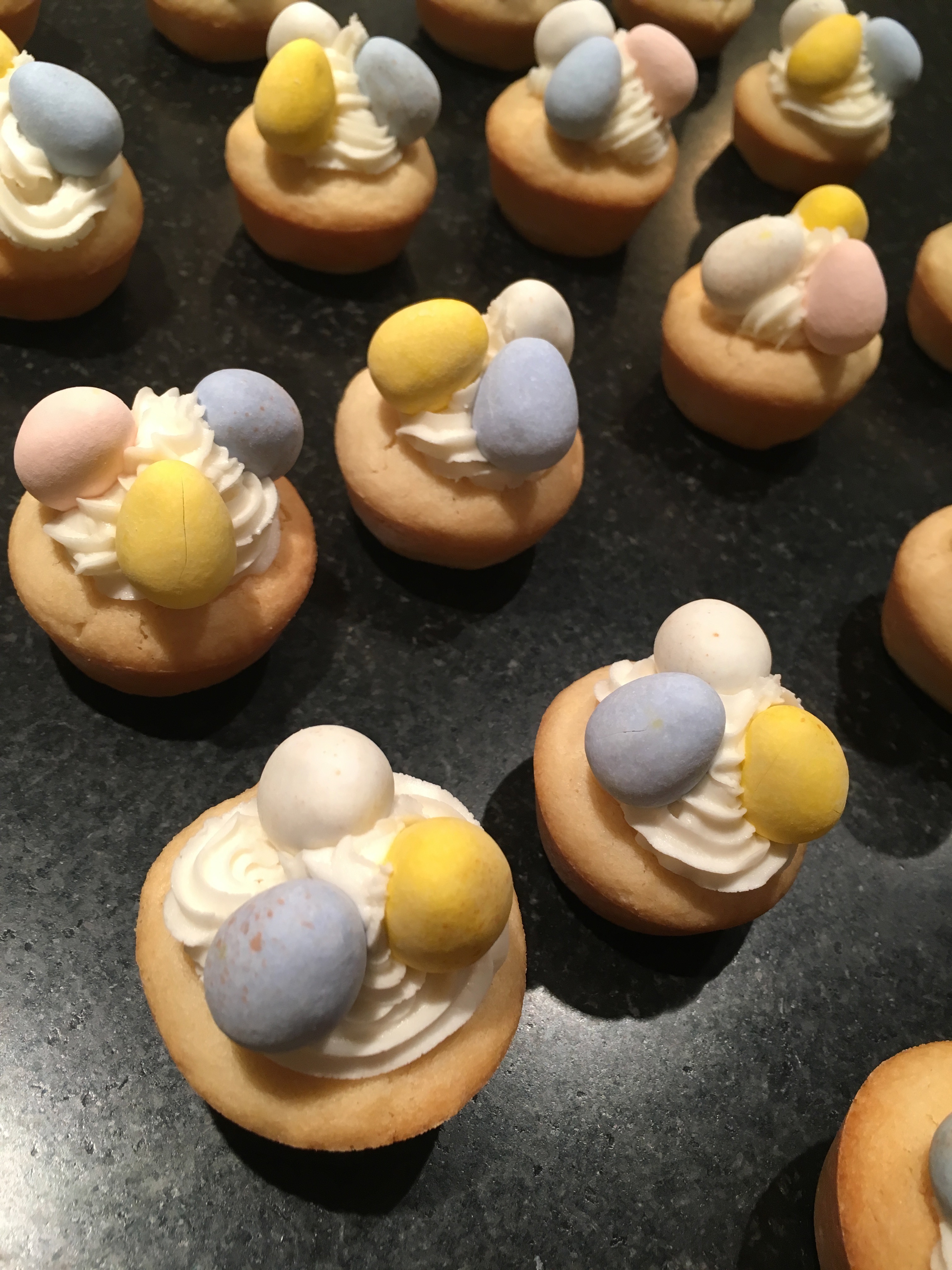 Ingredients
Cookie Cups
1 cup (2 sticks) unsalted butter, at room temperature
1 cup sugar
1 large egg
1 teaspoon pure vanilla extract
3 cups white unbleached flour
1/2 teaspoon baking powder
1/2 teaspoon salt
Frosting
1/2 cup (1 stick) butter, softened
4 cups powdered sugar
2 to 3 Tablespoons heavy whipping cream
1/2 teaspoon pure vanilla extract
1 large bag mini cadbury eggs (108 eggs) for decoration
Directions
For the cookie cups:
Cream together the butter and sugar.
Beat in the egg and vanilla extract. Scrape down the sides of the bowl and mix again.
In a separate bowl whisk together the flour, baking powder and salt.
Add the flour mixture to the butter and mix just until the dough comes together.
Chill the dough 30 minutes up to overnight.



Preheat oven to 350°F. Spray mini muffin pan with non-stick spray.
Take off tablespoon sized pieces of dough and roll into balls. Insert each ball into a mini muffin tin.
Using the handle end of a wooden spoon, or your finger, press an indent into the middle of each ball. This should push the dough up around the sides of the muffin cup. Make sure not to make the bottom of the cup too thin.
Bake the cookie cups for 15-18 minutes. The dough should be pale and no longer have a raw look, especially inside the indent. The sides and bottoms will be lightly browned.
Allow to cool 5 minutes and then remove to a cooling rack.
For the frosting:
In a stand mixer with the paddle attachment, beat the butter until it is light and fluffy.
Add in the sugar and 2 Tablespoons of cream. Stir until all the sugar is mixed in, then beat for 1 to 2 minutes on medium speed until the frosting is light and fluffy. If it seems too stiff, an additional Tablespoon of cream can be added.
When cookie cups are completely cool, pipe frosting into the cookies.
Place three cadbury eggs on each cookie cup to resemble a nest.
Nutrition
Total calories: 8,376
Calories per cookie cup: 233