whoopie pies
classic whoopie pies with marshmallow filling
baked in January 2016
yield: 24 whoopie pies
prep time: 30 minutes
cook time: 12 minutes
difficulty level: easy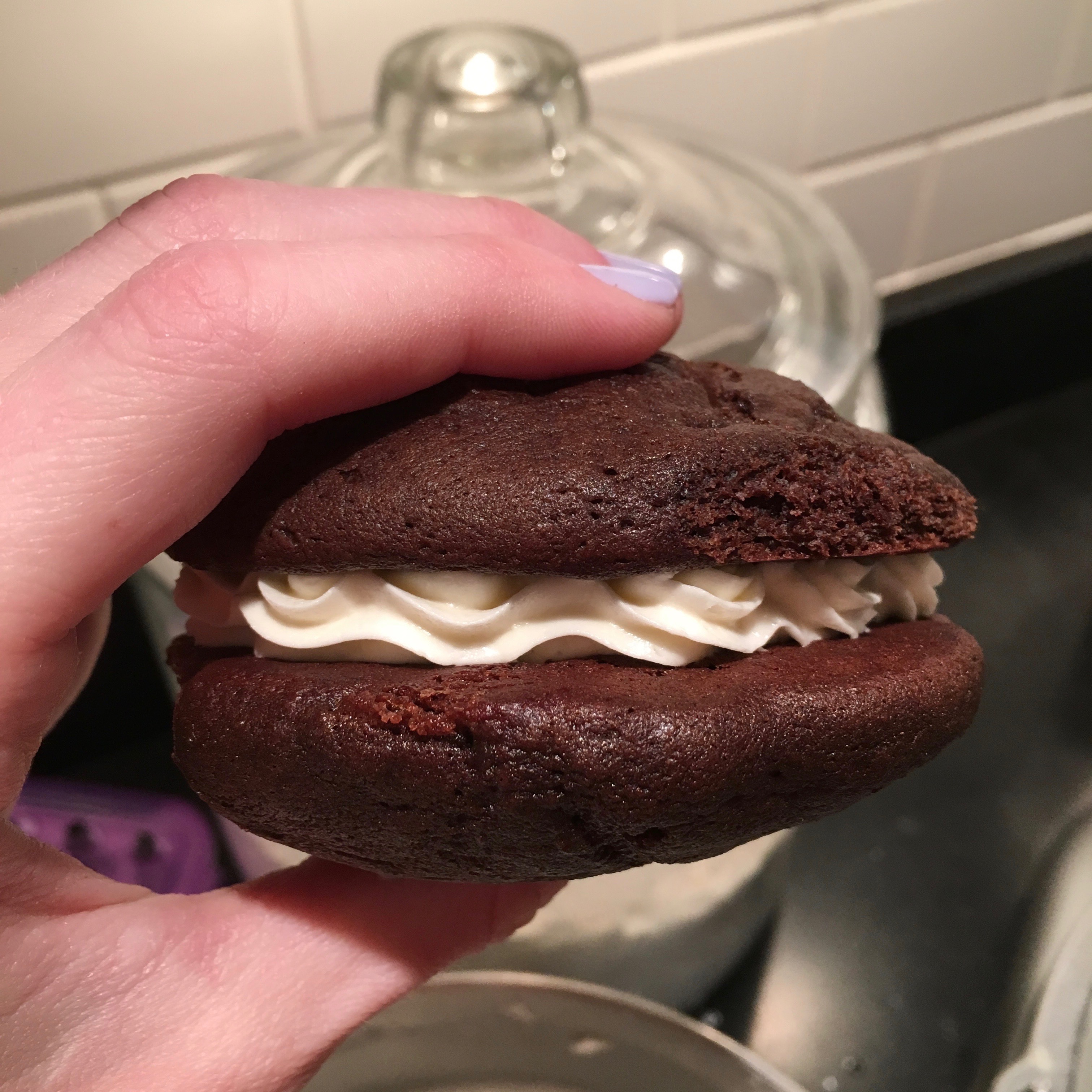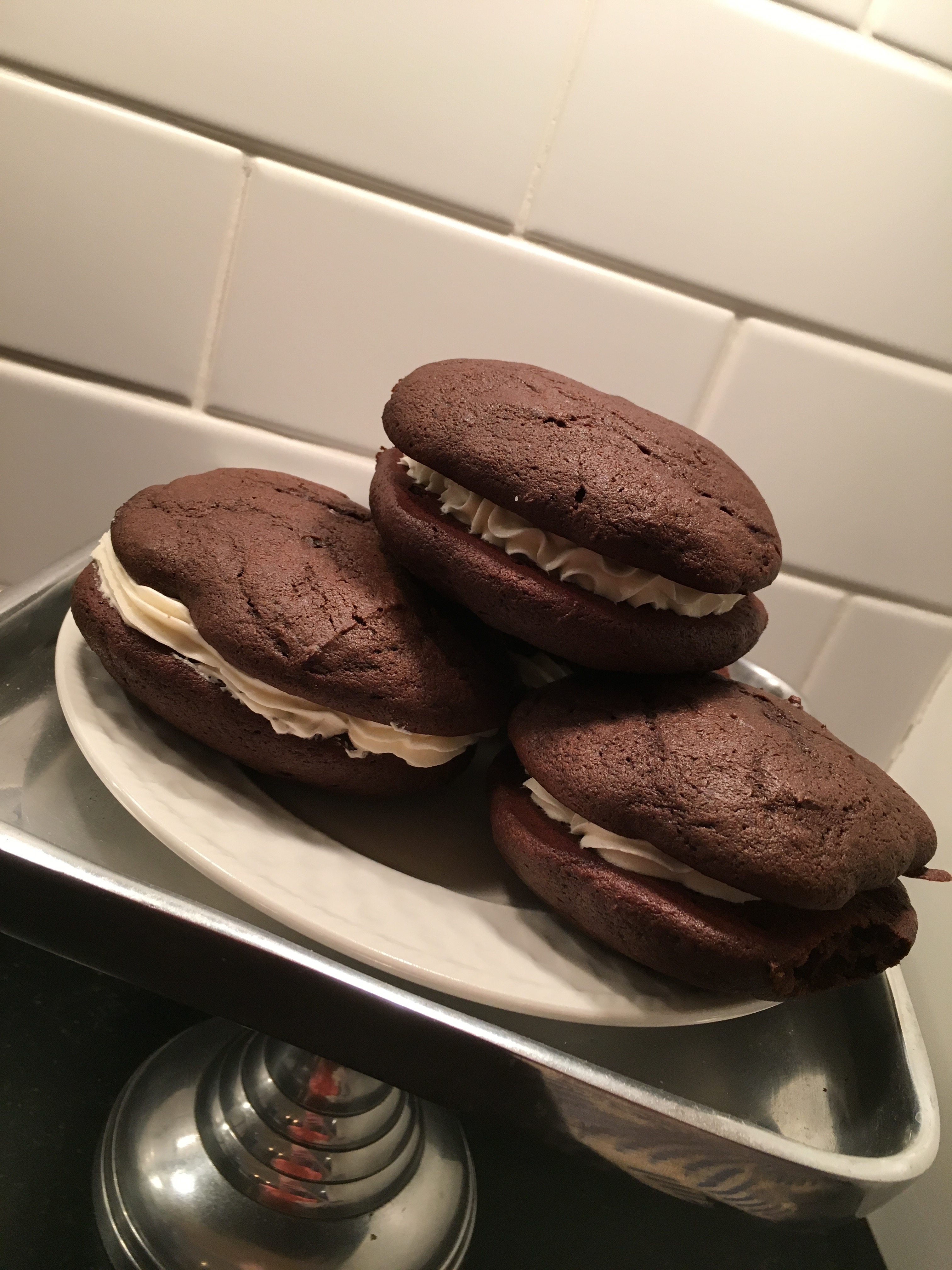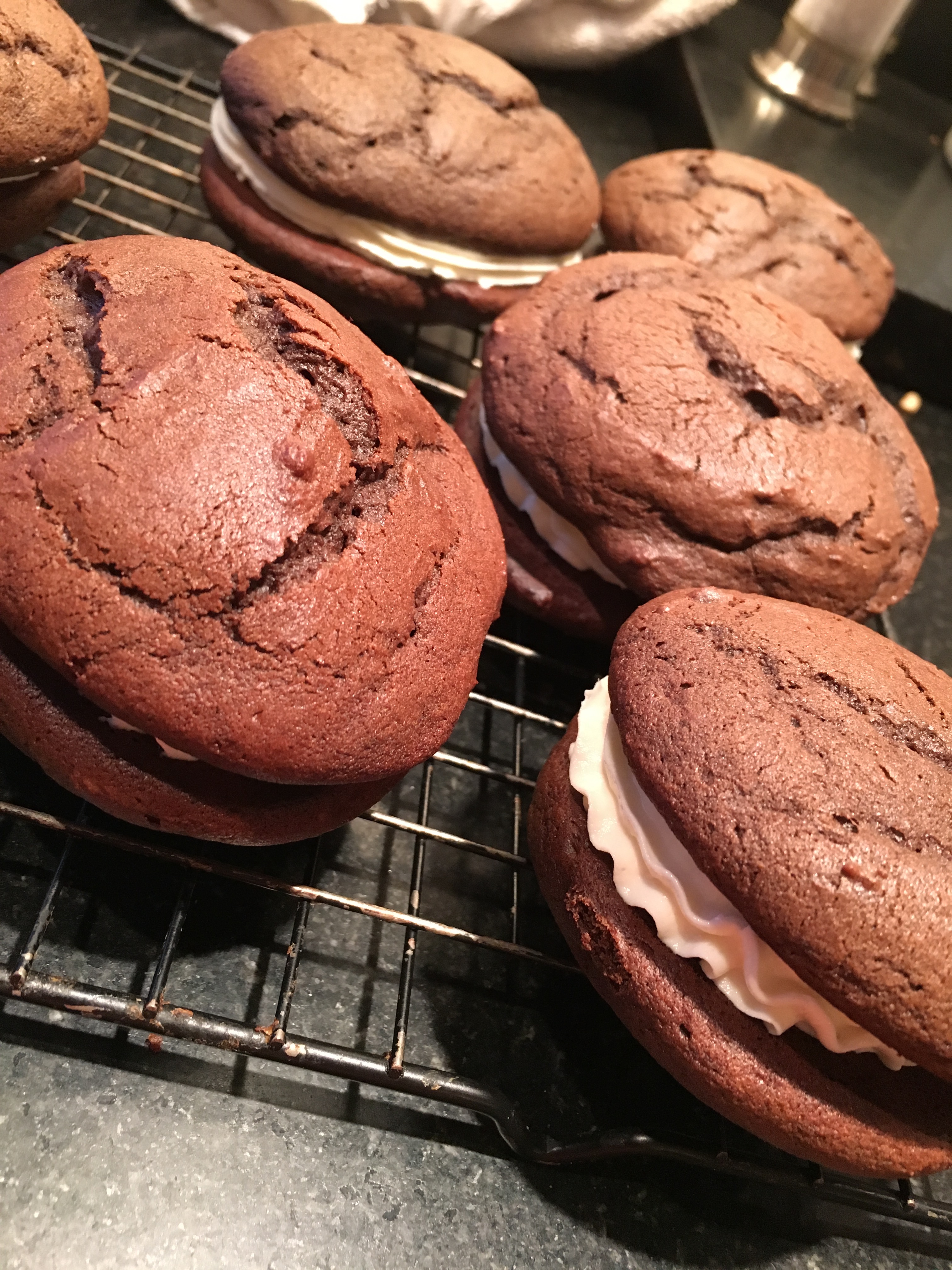 Ingredients
Cookies
3 and 1/2 cups all-purpose flour
1 teaspoon salt
1 and 1/2 cups unsweetened cocoa powder
1 Tablespoon baking soda
1 teaspoon baking powder
1 cup (2 sticks) unsalted butter, at room temperature
2 cups sugar
2 large eggs
2 cups buttermilk, at room temperature
2 teaspoons vanilla extract
Filling
1 and 1/2 cup (3 sticks) unsalted butter, at room temperature
3 cups confectioners' sugar, sifted
12 ounces marshmallow fluff
3 teaspoons vanilla extract
Directions
For the cookies:
Preheat the oven to 400° F. Line two baking sheets with silicone baking mats or parchment paper.
Combine the flour, salt, cocoa powder, baking soda, and baking powder in a medium bowl; whisk together to blend. Set aside.
In the bowl of an electric mixer fitted with the paddle attachment, combine the butter and sugar. Beat together on medium-high speed until light and fluffy, 2-3 minutes.
Beat in the eggs one at a time, blending well after each addition. Blend in the buttermilk and vanilla extract until incorporated.
Mix in the dry ingredients, blending just until combined.
Using a 1-oz dough scoop, drop the batter onto the prepared baking pans, 12 cookies per pan.
Bake for 12 minutes, rotating the pans halfway through baking.
Allow to cool on the pan 5-10 minutes, then transfer to a wire rack to cool completely.
For the filling:
Place the butter in the bowl of a mixer fitted with the paddle attachment. Beat on medium-high speed until smooth, 1-2 minutes.
Blend in the confectioners' sugar until incorporated.
Beat in the marshmallow fluff and vanilla until light and fluffy, 2-3 minutes.
To assemble the whoopie pies:
Once the cookies are completely cooled, match them up in pairs by size.
Fill a pastry bag fitted with a plain with the marshmallow filling.
Pipe a dollop of marshmallow filling onto the flat side of one cookie of each pair, and sandwich the cookies together, pushing the filling to the edges.
Nutrition
Total calories: 9,724
Calories per whoopie pie: 405